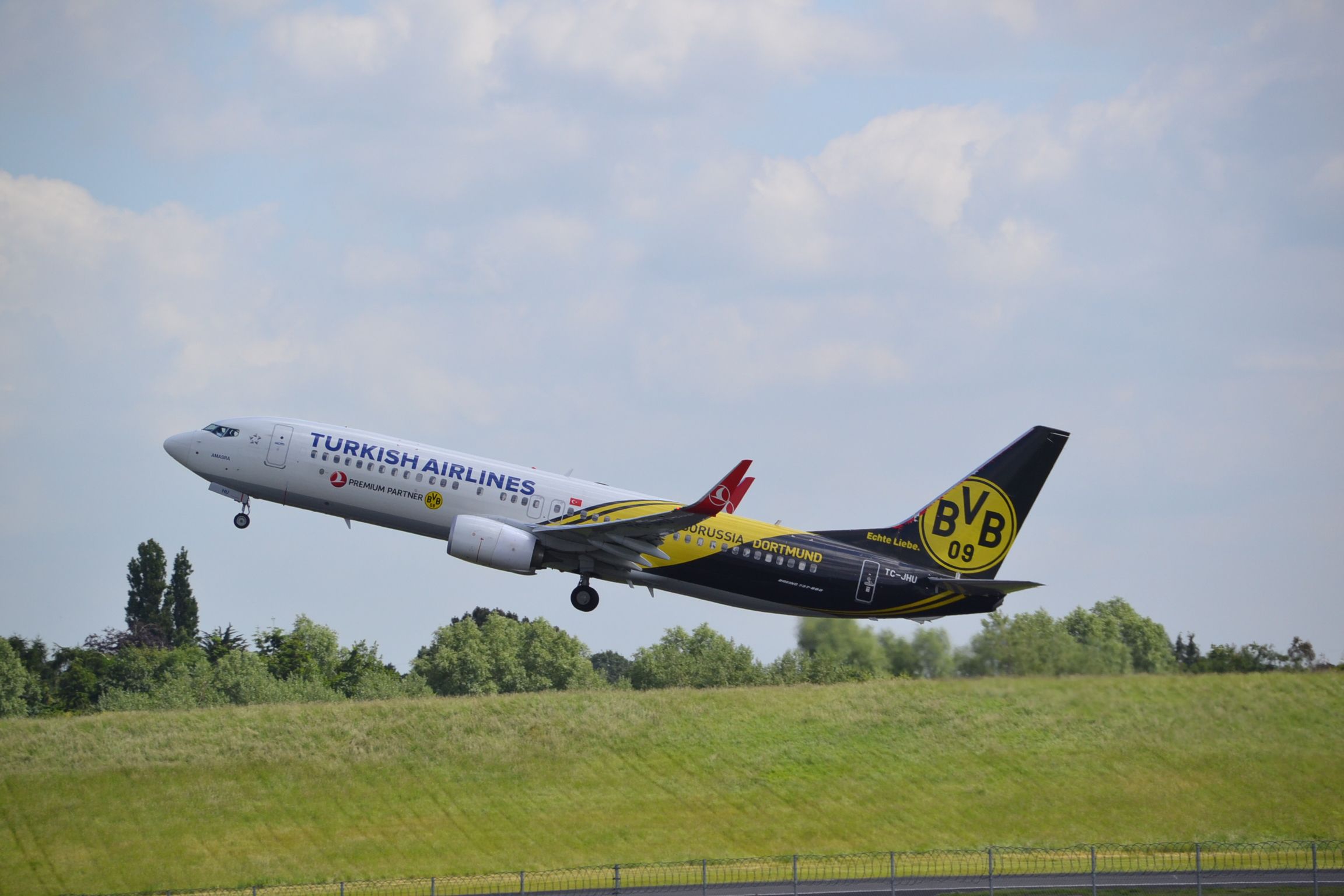 Which airlines have had liveries promoting German football teams?
The 2022 FIFA World Cup is just around the corner, with Lufthansa marking the occasion by renews its partnership with the German Football Association (DFB). The airline is well known for its 'Fanhansa' and 'Sigerflieger' liveries which promoted the German national team, but which German national clubs have been represented in the form of special airline liveries?
Turkish Airlines
Turkish Airlines has had close ties with Borussia Dortmund over the years, with Forbes Middle East reporting that the carrier launched a premium partnership with the club in December 2013. As pictured above, a Boeing 737-800 registered TC-JHU wore a Turkish Airlines/Borussia Dortmund hybrid livery from May 2013 to December 2014, according to data made available by ATDB.aero.
It turns out that this aircraft was not the only one of the Turkish flag carrier's jets to carry such a pattern in the mid-2010s. Indeed, this also applied to a Airbus A321-200 registered TC-JSJ, which took over the role when TC-JHU stopped wearing this livery in 2014. According to Planespotters.net, it retained it until August 2016.
Sun Express
Staying with Turkish Carriers, Antalya-based leisure operator Sun Express owns a Boeing 737-800 whose livery promotes Eintracht Frankfurt. This was applied more recently, having appeared on the aircraft in question, which bears the registration TC-SPC, in March 2020. According to Deutsche Welle, German teams try not to travel to national matches, Eintracht n 'having hit the sky only three times last time. season.
Corendon Airlines
Another leisure-oriented carrier with a livery promoting a German football club is Corendon Airlines. This carrier is also from Turkey, although the Boeing 737-800 seen below with an FC Nürnberg-themed livery flies for its Maltese subsidiary, Corendon Airlines Europe, as 9H-CXA. Another of Corendon Airlines Europe's 737s has a special paint scheme marking its partnership with English side Hull City.
Eurowings
Looking at the German carriers themselves, one of the most notable football-themed liveries in the country belongs to a Eurowings Airbus A320 registered D-AIZR. This jet has worn the distinctive black and yellow colors of Borussia Dortmund since July 2016. Last year, the carrier announced that he would base the jet in Dortmund.
Lufthansa
While German airline Lufthansa, which is also the parent company of the aforementioned Eurowings, is primarily known for its national team-themed liveries, it has also shown a degree of national representation. This came in the form of the Airbus A340-600 pictured below, registration D-AIHK. Between June 2016 and June 2017, its livery paid tribute to FC Bayern München.
Emirates
Dubai-based Emirates airline is well known for its footballing connections and its planes have worn special liveries promote teams like Arsenal. In 2017, he also had some German representation in this regard.
Indeed, as seen above, from March to July of that year, one of the carrier's Boeing 777-300ERs, registration A6-EPS, was adorned with several decals relating to the Hamburger SV. Even after the livery was retired, Emirates retained their involvement with the club and served as their main shirt sponsor until the end of the 2019/20 season.
What do you think of these football-themed liveries? Have you ever seen or even flown on any of these planes on your travels over the years? Let us know your thoughts and experiences in the comments!
Sources: ATDB.aero, Deutsche Welle, Forbes Middle East, Planespotters.net