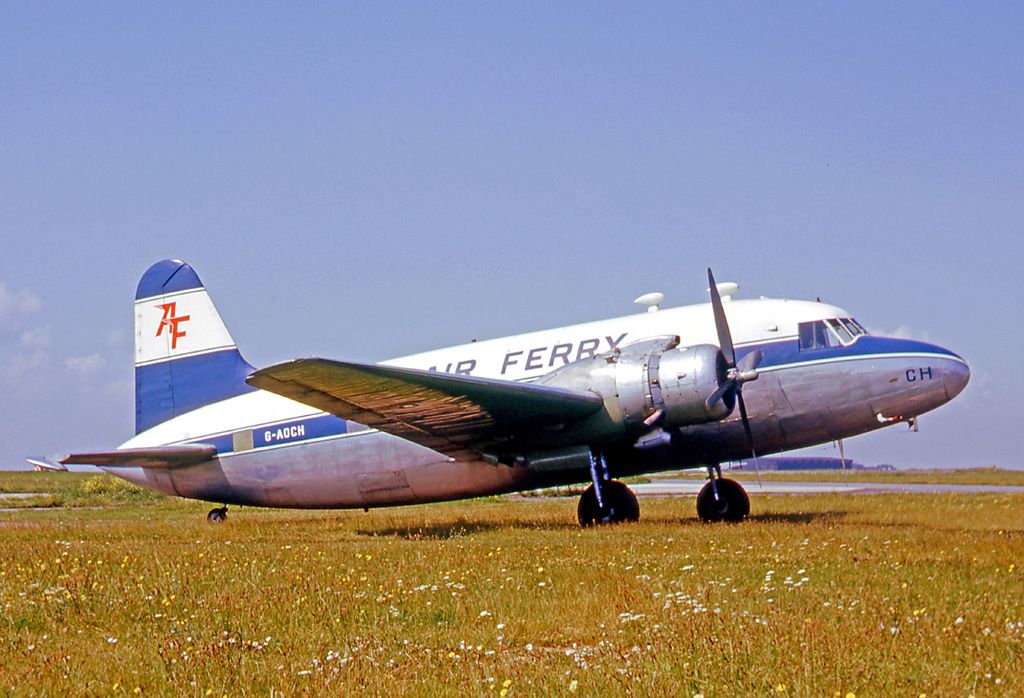 What happened to British carrier Air Ferry Limited?
Air Ferry Limited was a charter airline based in the United Kingdom from 1963 to 1968. The airline operated scheduled and charter services from its base at Manston Airport in Kent, which has been closed since 2014. In addition to flights passengers, Air Ferry Limited also operated cargo flights to its destinations.
Story
Air Ferry Ltd was founded in 1961 by Wing Commander High Kennard, a former director of Silver City Airways and Lewis Leroy, the founder of Leroy Tours. The company was founded as a subsidiary of Leroy Tours to operate charter flights and inclusive tours (IT). Included tours are actually package holidays and include transportation to and from the destination, as well as transportation at the destination, such as a car rental service.
Air Ferry began operations in April 1963, initially operating IT services from Manston Airport in Kent, England. The aircraft fleet at the founding consisted of two 40-seat Vickers Viking aircraft and two 80-seat Douglas DC-4/C-54 piston airliners. The Air Transport Licensing Board (ATLB) has licensed Air Ferry by granting the airline three Type A licenses to operate regular scheduled flights from Manston to Le Touquet (LTQ), Ostend (OST) and Verona (VRN).
Air Ferry Ltd began regular commercial services in mid-April 1963. Following the success of commercial services, Air Ferry decided to launch all-cargo flights in 1965. Besides Le Touquet (LTQ) and Ostend (OST), the airline also flew to Calais (CQF) and Rotterdam (RTM).
Change of ownership
In October 1964, Air Ferry changed ownership when Air Holdings purchased Leroy Tours. Air Holdings also owned British United Airways (BUA), Britain's largest airline and independent aircraft operator at the time. This takeover makes Air Ferry an associate airline of British United Airways.
In 1968, Air Ferry further expanded its operations by acquiring two VIckers Viscount 800 aircraft. In the same year, Air Ferry expanded to passenger and cargo flights from Manston, London, Bristol and Manchester. However, after the 1968 summer season, Air Ferry had to cease operations. On October 31, 1968, Air Ferry announced that it had ceased all trade.
Fleet
Air Ferry operated a wide range of aircraft over its lifetime. These included the Aviation Traders ATL-98 Carvair, Bristol 170 Freighter, Douglas DC-4/C-54 Skymaster, Douglas DC-8, Vickers Viking and Vickers Viscount aircraft. In 1968, when the aircraft ceased all operations, it had 2 Vickers Viscount aircraft in its fleet, alongside 2 Douglas DC-6As and 2 Douglas DC-4s.
Air Ferry has not suffered many disastrous accidents during its six years of operation. However, he had two major incidents with casualties. The first occurred on January 21, 1967, in which a Douglas C-54 Skymaster registered G-ASOG crashed into trees while on approach to Frankfurt (FRA), Germany from Manchester (MAN) , in England, at night, killing the two crew members. members.
The second incident occurred the same year, on June 3. An Air Ferry Douglas C-54 Skymaster registration G-APYK was flying from Manston, England to Perpignon, France when it struck the Canigou during its descent, killing all 88 people on board. The cause of the crash was determined to be crew carbon monoxide poisoning due to a faulty cabin heater, causing the crew to become disoriented.