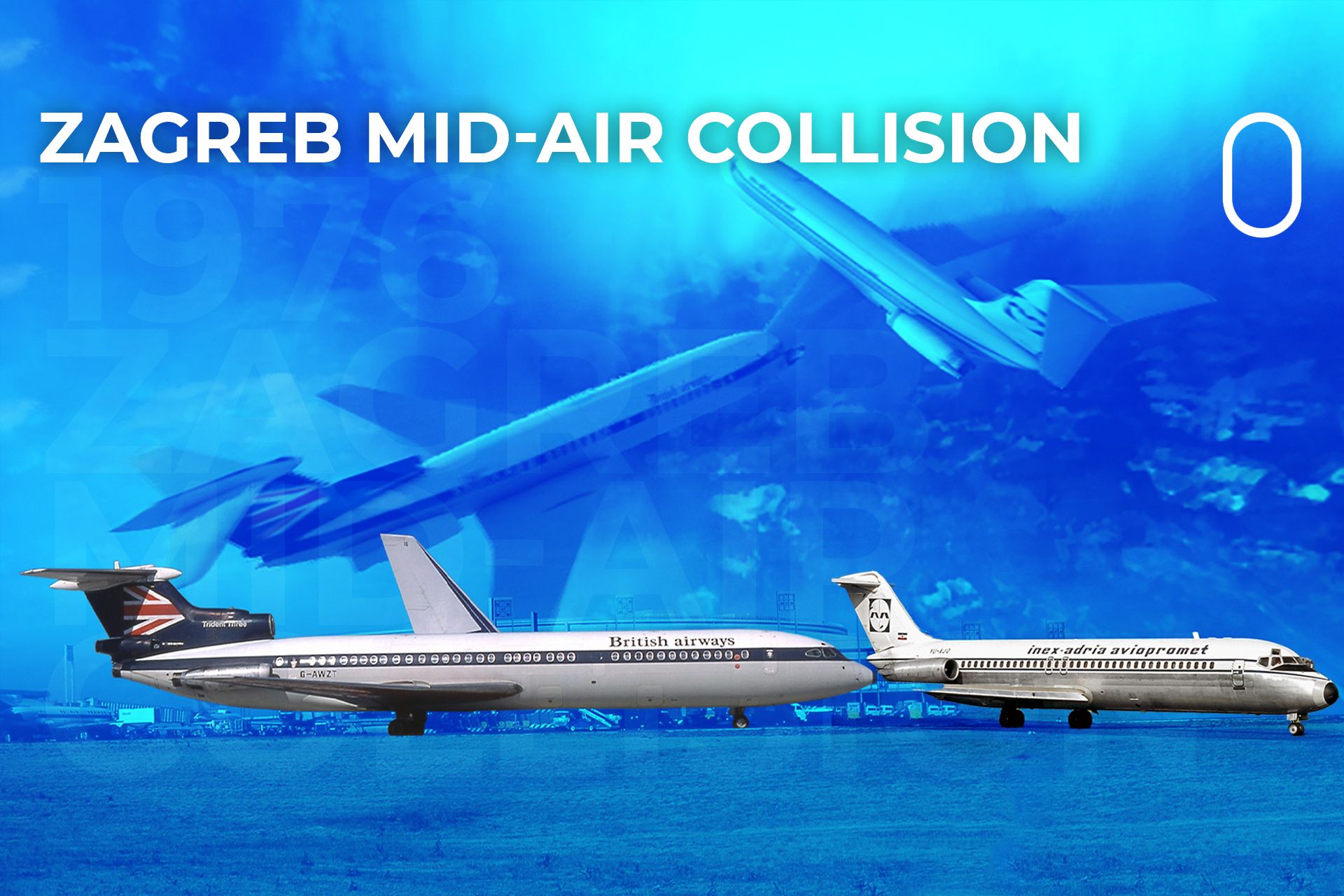 The story of the Zagreb air collision in 1976
On this very day, September 10, 46 years ago in 1976, British Airways Flight 476 en route to Istanbul, Turkey from London collided mid-air with a Douglas DC-9 operated by Inex- Adria Aviopromet who was en route from Split to Cologne in what was then West Germany. In total, all 176 people on board the two planes were killed. At the time, it was the deadliest mid-air collision in the world and remains the worst air disaster in Croatian history.
The four-year-old British Airways Hawker Siddeley Trident aircraft, registration G-AWZT, was on a scheduled flight from London Heathrow Airport (LHR) to Istanbul-Yesilköy Airport (IST) in Turkey. The second aircraft involved in the incident was a two-year-old McDonnell Douglas DC-9-30 registered YU-AJR carrying German holidaymakers home after their holiday on the Dalmatian coast.
Both captains were experienced pilots
Captain Dennis Tann, 44, First Officer Brian Helm and Flight Engineer Martin Flin were responsible for British Airways Flight 476. The Inex-Adria Aviopromet McDonnell Douglas DC-9 was commanded by Jože Krumpak, 51, an experienced pilot with 10,157 flying hours, and first officer Dušan Ivanuš.
British Airways Flight 476 took off from London Heathrow Airport at 08:32 UTC with 54 passengers and nine crew. Inex-Adria flight 550 took off from Split airport at 09:48 UTC with 108 passengers and five crew members. Both flights were proceeding smoothly until they entered Zagreb airspace and came under the control of Zagreb's Ait Traffic Control (ATC). The Zagreb VOR was a reporting point for many busy airways between northern and southeastern Europe and the Middle East
ATC Zagreb was one of the busiest ATC centers in the world
Although seriously understaffed and under-equipped by the mid-1970s, Zagreb's ATC was one of the most active in the world. The airspace controlled by Zagreb ATC was divided into three sections:
Aircraft flying below 25,000 feet
Aircraft flying between 25,000 feet and 31,000 feet
Aircraft flying above 31,000 feet
After crossing the Austrian border into what was then Yugoslavia, BA Flight 476 established radio contact with Zagreb ATC, speaking with senior control sector controller Gradimir Tasić. At 10:42 UTC, BA476 radioed to say it was sailing at 33,000 feet and should reach the Zagreb VOR at 10:14 a.m. The controller told BA flight to select transponder code 2312 and call again when they reached the VOR.
It turned out to be the last communication with the plane.
At the same time as the BA flight was talking to the upper level controller, the DC-9 commander contacted the middle level controller, Bojan Erjavecto, requesting clearance for an upper level flight. At the time, the plane was cruising at 26,000 feet. Both flight levels, 28,000 feet and 31,000 feet, were occupied by other aircraft leaving only 35,000 feet available, which Captain Krumpak accepted.
To climb to the highest altitude, it was necessary to obtain the authorization of the ATC controller in charge of the higher level. Erjavec waved his hand to get Tasić's attention, but the upper level controller was too busy to notice. Eventually things were sorted out and the DC-9 was cleared to ascend to a higher level.
Suddenly realizing there was a danger of collision between the DC-9 and the Trident, Tasić ordered the DC-9 to stop climbing and, in a panic, reverted to his native Serbo-Croatian language rather than using English, as was the procedure. Because of this, the British Airways captain would have had no idea what was being said, and no idea of ​​the imminent danger his flight was in. By the time JP550 leveled off it was at 33,000 feet, just like the British flight. Airline planes.
The two planes collided at 10:14 a.m., and 30 seconds later Tasić attempted to call BA476 and asked them to report passing the next waypoint at Našice. The call went unanswered.
The captain of a Lufthansa 737 witnessed the collision
Meanwhile, a Lufthansa Boeing 737 flying east at 29,000ft 15 miles behind the Trident saw what it thought was a lightning strike and then two planes plummeting to the ground. The Lufthansa captain immediately reported what he witnessed to the mid-level ATC controller. The two planes had collided near the town of Vrbovec, northeast of Zagreb, killing all passengers and crew.
All serving ATC controllers were taken by police for questioning and then released, except for Tasić, who remained in custody until trial. At the end of the trial, Tasić was the only one to be found guilty and was sentenced to seven years in prison. ATC controllers across Yugoslavia petitioned on his behalf, claiming he had become a scapegoat. On November 28, 1978, he was released from prison after serving two years and three months in prison.