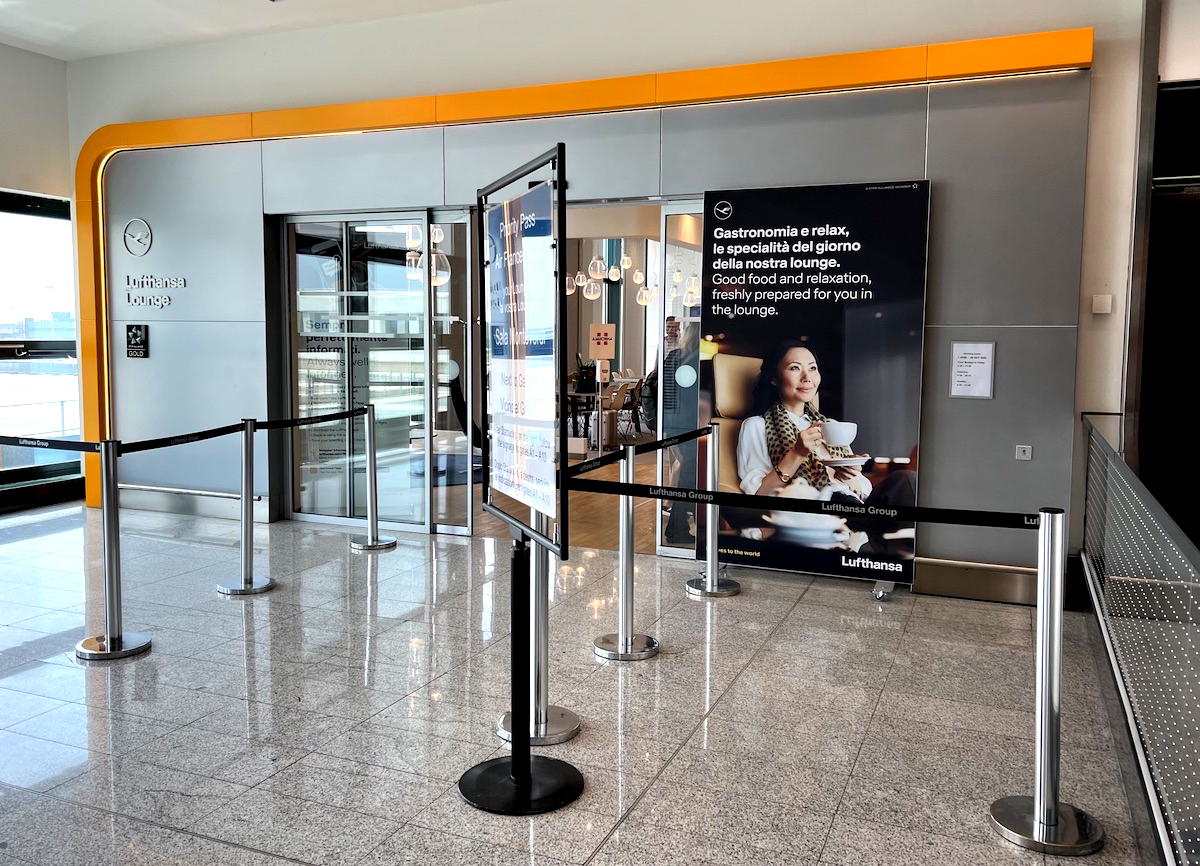 The horrible and vindictive agent Lufthansa Lounge Milan
I travel a lot, and as any frequent flyer can attest, service in the airline industry can be mixed. Some airline employees are great and love helping people, while others are indifferent.
On Wednesday afternoon, I encountered the most unprofessional service I've had from an airline employee in years, at the Lufthansa Lounge Milan Malpensa (MXP). I would say this was the worst customer service experience I have had since my TAAG Angola first class flight from Luanda to Sao Paulo…
Our checked bags shouldn't have been a problem
Let me set the scene. We were flying Emirates from New York to Milan, then SWISS from Milan to Zurich to Nice. Airlines will often allow you to check your bags through to your final destination, even if you are not traveling with a partner, as long as the airlines have an interline agreement. Ultimately, it is up to the airline operating the first segment to decide whether or not to allow it.
I would note that we left plenty of time in Milan to be able to collect our bags and recheck them if we wanted to. There were only Emirates contractors at the Emirates check in at JFK, and they couldn't easily figure out how to check our bags through to Nice. Carefree.
When we arrived at the Emirates Lounge JFK, there were real Emirates employees there, and they offered to check our luggage along the way. Even though our bags were already checked in, they assured us that the bags could easily be re-tagged. Bags are constantly being relabeled after check-in, so it's really not that complicated. And indeed they did, because as you can see below, the bags were properly labeled.
Although they cannot reprint the actual claim tag in the lounge, they wrote the new claim tag numbers on our baggage claim card, which should be fine. As long as you have this code, you have everything you need to tag the bags.
At this point the bags would be tagged to Nice. However, as a passenger, you should always give the connecting airline your baggage claim card as soon as possible, so that they can add it to the system on their side and load the baggage. After all, they cannot load the baggage if the passenger has not notified this airline of their intention to check baggage.
Things go wrong at the Lufthansa Lounge Milan
We arrived at the Lufthansa Lounge Milan with plenty of time before our SWISS flight to Zurich. After being admitted to the lounge, I informed the agent that we had two checked bags and gave him the baggage claim cards.
The conversation went something like this:
Me: "The correct claim tag numbers are the ones written on the right, because the bag was re-tagged to be on this flight."
Agent: "If you don't have this, I can't do this" (showing the stickers with the barcode)
Me: "But this was all done by Emirates, and the bag is currently tagged to be on these flights. Can't you just enter the number to have it noted in your system?"
Agent: "No, it's not my problem, it's Emirates' fault."
Me: "To be clear, the bag is tagged to be on this flight, but if you can't enter it into your system, how is it supposed to be loaded on the flight?"
Agent: "It's Emirates' problem, talk to them."
Me: "Emirates cannot update the beacon number in your system. We have the case number and just enter it into the system.
Agent: "I can't do anything. Maybe you can go to the gate 10 minutes before departure and ask them.
Me: "But I would like to deal with this situation now, because if our luggage is not going to be on this flight, we are not going to take this flight either, because then we would like to solve the problem here."
Agent: "I can't do anything."
Me: "Okay, so if I don't do anything more now, what's going to happen to the bags?"
Agent: "You have the wrong tag, I can't do anything."
At this point, I walked away to think more about the best approach to take. I thought I would take a 'hang up and call back' approach, in the form of trying to see if there was a Lufthansa or SWISS transit desk in the terminal. Unfortunately, there were none.
So I came back and spoke to the same agent, and asked if I could speak to the station manager, because I wasn't getting the help I needed.
She rolled her eyes at me and picked up the phone, and someone immediately picked up on the other end of the line (so I think it's highly unlikely that it was actually the station manager to whom she spoke). The conversation was in Italian, so I didn't understand everything, but I heard her say "Signore Schlappig" and "Francoforte".
At this point, she just said "okay, they'll try". I replied "but I heard you say my last name and Frankfurt, when we fly to Zurich and the luggage is checked in the name of my husband, who is Beckett." She rolled her eyes again and picked up the phone, simply muttering "Zurich" and "Beckett").
Just want to clarify, the whole barcode only exists to make it easier for airline employees to enter information, but there is no implication beyond that. At the end of the day, a bag will only be loaded if the passenger indicates that they wish to check a bag and the bag is tagged to the destination. In this case, both of these conditions were met.
At this point, we headed to check-in
As the lounge agent clearly didn't want to help, we headed to the Lufthansa & SWISS check-in counter. We took all our luggage to airside and upon check in we just informed the agent that we had checked luggage from Emirates.
We showed her the claim tag, and literally seconds later she said she had added it to the system, and we were good to go. The SWISS app even immediately reflected our checked baggage. As expected, this shouldn't have been a problem, and she did what she was supposed to.
In the end this effort wasted some time as we had to wait to go through security and there was quite a line. But it was worth it to make sure our checked bag would make it.
Trying to get the name of the salon agent
At this point, we briefly returned to the lounge, as we had about 15 minutes before boarding. I didn't tell the unhelpful lounge attendant that her colleague was happy to check our bags with no problem, as I feared she was being vindictive and somehow trying to another to unload them.
As I left the living room, I stopped at the office…
Me: "Can I have your first name please?"
Officer: "Me? Why?"
Me: "Because I would like to complain about the service you provided."
Agent: "Why, because of your bag?"
I do."
Agent: "My name is Maura. Just so you know, I spoke with the station manager, and he told me that you gave me incorrect information and that your bag would not pass.
She made that last comment with a big smile on her face. And just to be clear, she never tried to find us to get the right information, but rather she was obviously thrilled to know that we would be bagless. Usually, airline lounges are supposed to offer superior customer service to what you'll find in the terminal, not to mention that Lufthansa is considered one of the best five-star airlines in the world. 😉
I'm sorry to report, Maura, that our bags made it, no thanks to you…
At the end of the line
I usually don't like to name and shame, but Maura at Lufthansa Lounge Milan is the least helpful airline agent I've had in ages. It's one thing if she just refused to be helpful, but her happily informing us at the end of our visit that our bags wouldn't make it is a level of vindictiveness I haven't seen from a long-time airline employee.