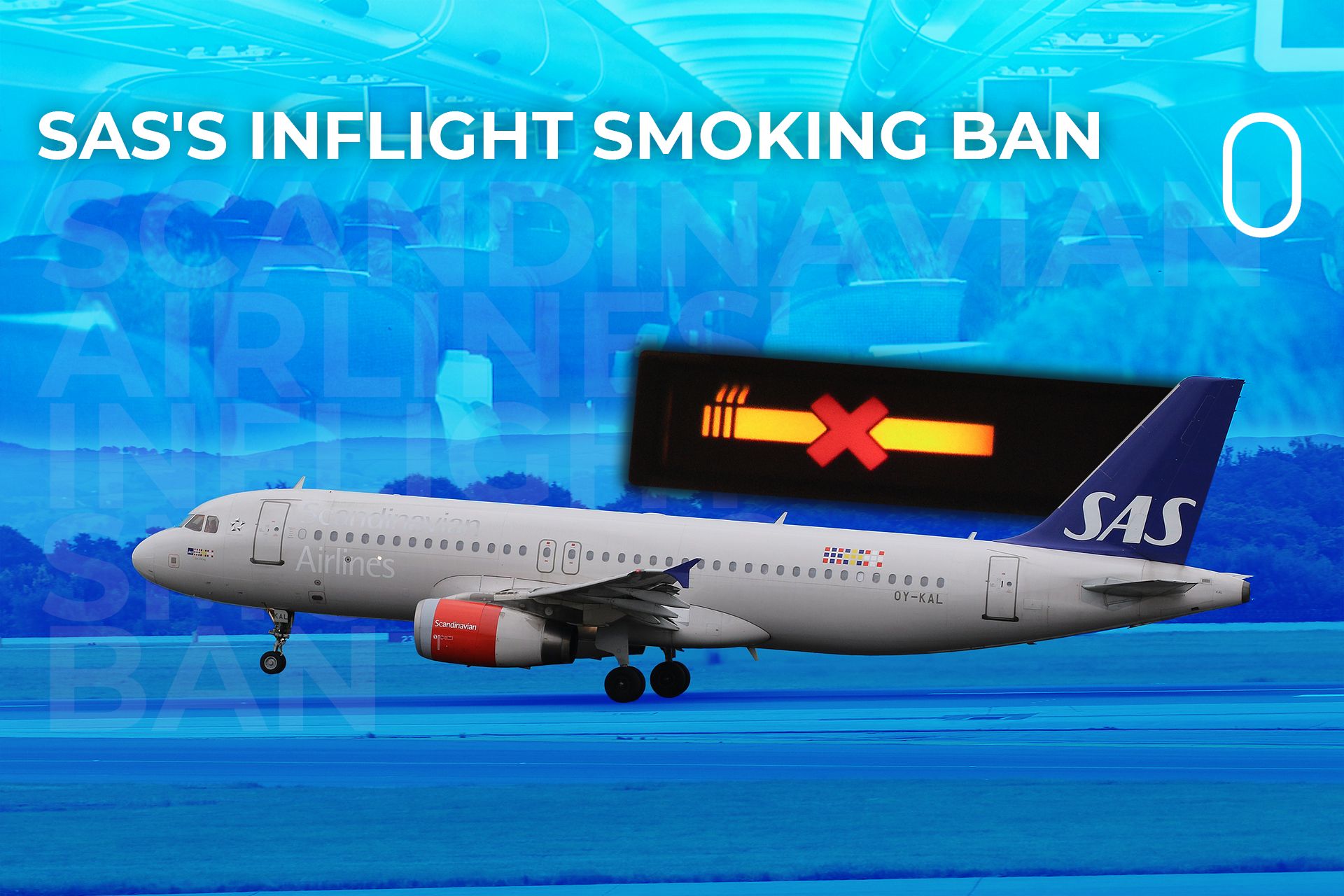 The Evolution of Scandinavian Airlines' Inflight Smoking Ban
Smoking on commercial aircraft is almost universally banned for health and safety reasons these days. However, as recently as the late 20th century, it was a more common sight (and smell) on world flights. Nevertheless, in the 1980s and 1990s Scandinavian Airlines (SAS) began the process of shutting it down.
Start at the regional level
Although SAS took a progressive approach, it still had some history when it came to its links to smoking. Indeed, Scandinavian Traveler notes that, in the 1950s, smokers could even buy SAS-branded cigarettes, which featured the carrier's logo. For much of the 20th century, smoking was allowed on board and even caused confusion in an incident involving another European flag carrier.
Indeed, in June 1982, a British Airways flight lost engine power over Indonesia after passing through a cloud of volcanic ash. Although this caused a buildup of smoke in the cabin, it was assumed by the cabin crew to be nothing more than a buildup of cigarette smoke. Eventually the gravity of the situation became clear and the Boeing 747 was able to descend, regain power and land in Jakarta.
Four years after this incident, 1986 saw SAS begin the process of banning smoking. The first step was to ban it on Swedish domestic flights operated by Linjeflyget, as the longest of them only lasted 65 minutes. This followed smoke-free test flights, where even smokers found the experience more pleasant.
Photo: Getty Images
Spread throughout Scandinavia
Even before that, SAS had already worked to reduce the effects of cigarette smoke on board by confining smokers to the rear of the cabin. However, the outright banning of Linjeflyget flights further facilitated a working environment that one flight attendant described as "wonderful". Nevertheless, smoking still caused incidents on the more distant flights of the Scandinavian carrier.
Indeed, Scandinavian Traveler notes that in May 1986, hostilities between smokers and non-smokers aboard a Washington – New York flight resulted in a fight that forced the service to be diverted to Baltimore. As such, wider action was needed, and in 1988 SAS extended the ban to all Swedish and Norwegian domestic flights.
SAS is the flag carrier of Denmark, Norway and Sweden, and a year later domestic services in the first of those countries were also brought under the airline's inflight smoking ban. 1989 also saw the practice banned on flights between Nordic nations. Further restrictions would come into effect over the next decade.
Photo: Airbus
Scaling up
Today, Scandinavian Airlines' European network is a significant part of its day-to-day operations, and it was only 26 years ago that the carrier began banning smoking on international flights to non-Nordic countries. The practice was first banned on SAS international flights to Austria, Belgium, France, Germany, Luxembourg, the Netherlands, Switzerland and the UK in 1996.
A year later, 1997 saw this ban extended to its entire flight portfolio, a move that coincided with the EU banning smoking on board flights in its member states. The following year, a smoking-related death aboard Olympic Airways Flight 417 in April 1998 proved to be a catalyst for similar bans elsewhere in the world.
What do you think of Scandinavian Airlines' smoking ban? Were you aware of its progressive implementation in several stages? Let us know your thoughts in the comments.
Source: Scandinavian Traveler
SAS

IATA/ICAO code:

SK/SAS

Airline type:

Full service carrier

Hub(s):

Copenhagen Airport, Oslo Gardermoen Airport, Stockholm Arlanda Airport

Year of foundation:

1946

Alliance:

star alliance

Air group:

SAS Group

CEO:

Anko van der Werff