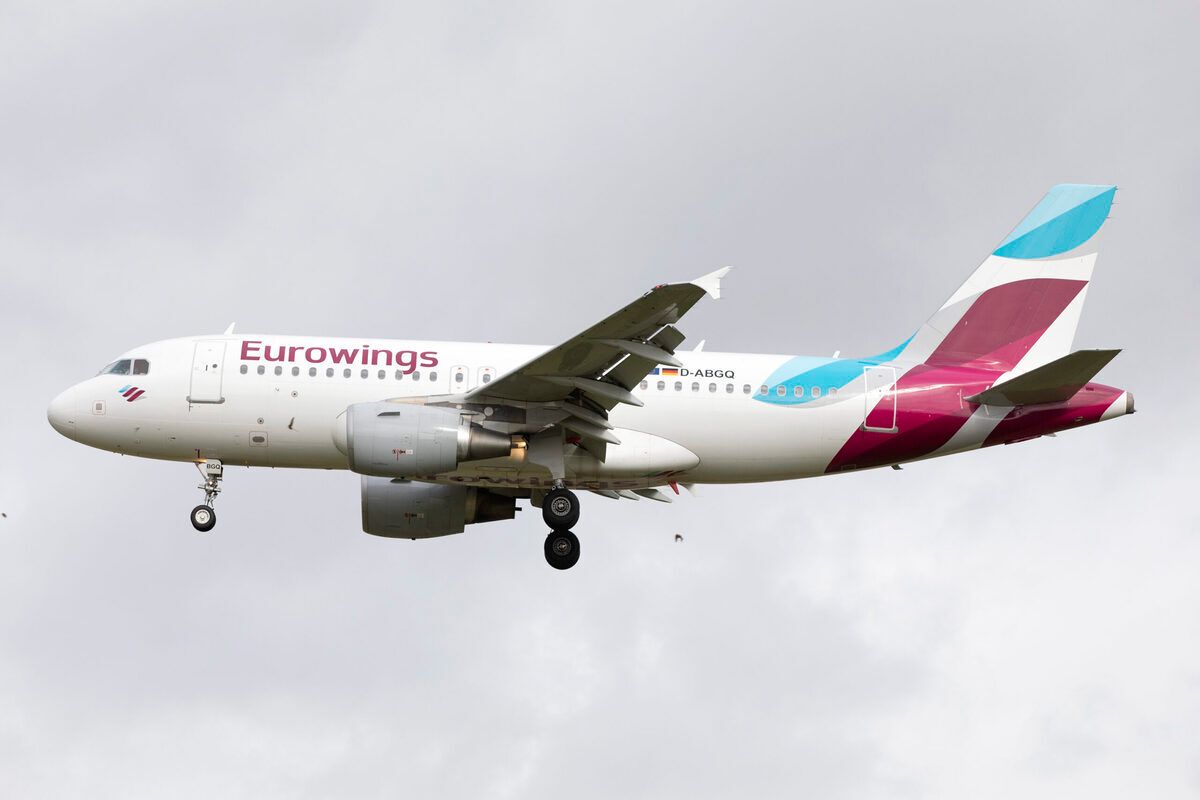 The Eurowings fleet in 2022
German low-cost airline Eurowings is a key member of the Lufthansa Group. With more than 100 aircraft at its disposal, the airline caters to European leisure markets for passengers wishing to travel on a budget. In recent years, Eurowings has diversified its network to also include operational bases outside Germany, as well as the opening of a long-haul division. But what plane is he flying on?
Eurowings least numerous aircraft types
According to data from ch-aviation.com, Eurowings currently has 116 aircraft in its fleet. These aircraft are spread across only six aircraft types, two of which are dominant forces and four play a much smaller role. Let's start by looking at the carrier's rarest planes, some models of which operate on lease.
First, Eurowings currently flies two Boeing 737-800s on lease from the German division of TUI. Registered as D-ABMQ and D-ABKJ, data from ATDB.aero shows that these jets have been flying for Eurowings since September 2020 and March 2021 respectively. A quick glance FlightRadar24.com suggests both are based at Cologne Bonn Airport (CGN).
The rest of Eurowings' fleet consists mainly of Airbus A320 family jets. The rarest of them from the German low-cost airline is the stretched A321, of which Eurowings has two. However, these 200-seat jets are currently stored in Berlin. The two copies flew there from Kaunas in April 2022, after almost two years in storage in the Lithuanian city.
BriYYZ via Flickr"' data-modal-id="single-image-modal" data-modal-container-id="single-image-modal-container" data-img-caption='""'>
Eurowings 737s serve European leisure routes from Cologne Bonn. Photo:
BriYYZ via Flickr
Stay informed: Sign up for our daily and weekly summaries of aviation news.
A recent development in Eurowings' fleet saw it receive the first three of eight Airbus A320neos, an aircraft type it recently launched on the Düsseldorf-Mallorca route. In the future, it also plans to take delivery of five A321neo stretched aircraft. Another rare Eurowings design is the A220-300, of which the carrier flies four examples on lease from airBaltic.
Dominated by the A320ceo
In terms of the dominant forces in the current Eurowings fleet, the most numerous aircraft type is the original Airbus A320. Otherwise known as the A320ceo (Current Engine Option), there are 69 examples of this jet in Eurowings' current configuration, representing more than 59% of its total fleet. Of these, 13 are registered with Eurowings Europe, which serves its non-German bases.
Six of these 13 aircraft have Austrian registrations with "OE" prefixes. Thirteen other Eurowings A320s are also registered with another carrier, namely Avion Express Malta. In total, Eurowings A320s are on average 11.3 years old.
The airline industry is always full of new things! What aviation news will you check next?
Eurowings will equip the A320neos with a configuration similar to its existing A320s. Photo: Getty Images
Small but mighty – the Airbus A319
The remaining 36 aircraft in the Lufthansa Group's low-cost carrier's fleet are examples of the shorter Airbus A319. They are the oldest Eurowings narrow bodies, with an average age of 13.3 years. Like the A320, a few are affiliated with Eurowings Europe, with six of those seven being registered in Austria. Eurowings has flown five other examples of the Airbus A319-100 in previous years.
Looking at the seat maps available on SeatGuru, we can see that Eurowings A319s, like its A320s, have a three-row business class cabin at the front of the aircraft. Like many European carriers, the seats are the same as in economy class, but the middle one is blocked off to allow premium passengers more space. What the A319s also have in common with the A320 is the lack of a line 13.
Gameplayzz via Wikimedia Commons"' data-modal-id="single-image-modal" data-modal-container-id="single-image-modal-container" data-img-caption='""'>
Discover Eurowings
Mention should also be made of the aircraft flown by Eurowings Discover, a brand of the Lufthansa group which mainly specializes in serving long-haul leisure destinations. Data from ch-aviation shows that this carrier has 24 aircraft. This includes seven leased aircraft (three A220s from airBaltic and four A350s from Finnair).
In terms of non-leased aircraft, Eurowings Discover has seven A320-200s, three A330-200s and seven A330-300s. Going forward, ch-aviation also lists three more A320-200s and one A330-300 not yet delivered.
What do you think of the current Eurowings fleet? Have you ever traveled with the German low-cost airline? Let us know your thoughts and experiences in the comments!