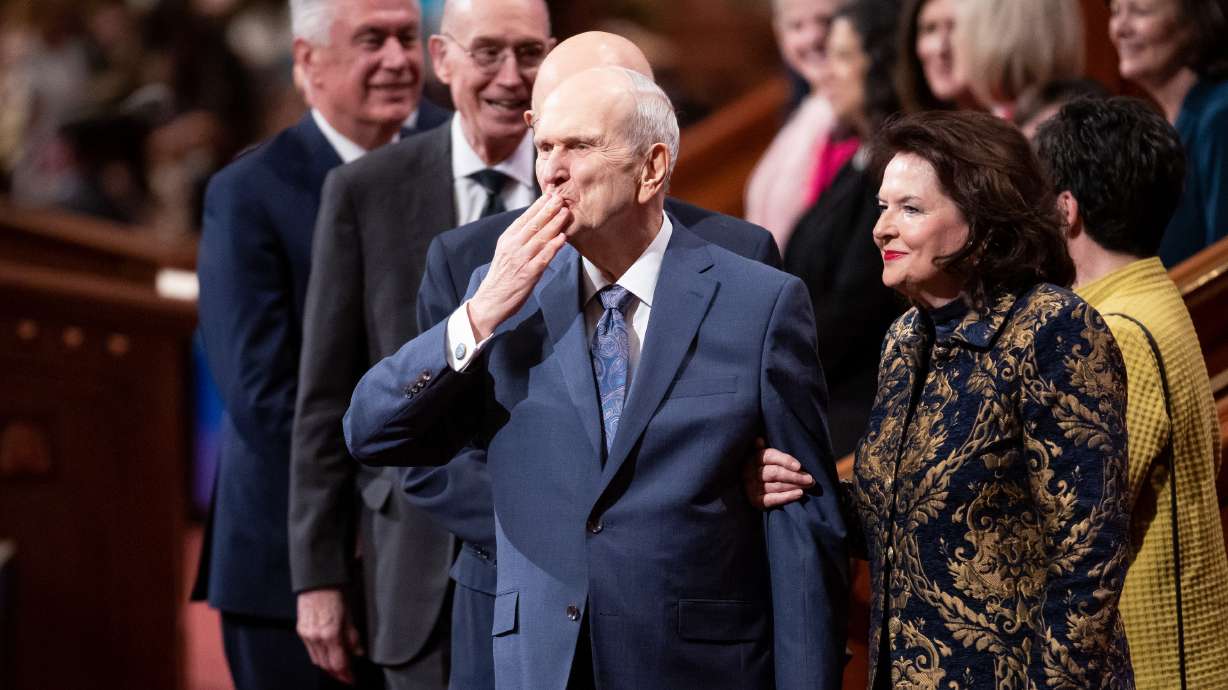 Sunday Afternoon Session: Summaries of General Conference of Latter-day Saints
With the simple illustration of the widow's mite found in the New Testament, Jesus Christ taught how offerings are measured in the kingdom, said Elder Deiter F. Uchtdorf of the church's Quorum of the Twelve Apostles.
The widow submitted a humble mite, compared to the large and large donations of much richer people to the temple treasury. But Christ rented the widow's share, instead of the wealthy donors.
"In praising this faithful widow, the Savior has given us a standard by which to measure our discipleship in all of its many expressions," Elder Uchtdorf said. "Jesus taught that our offering can be big or small, but either way it should be all of our hearts."
"To the Lord, the value of [widow's] the gift was measured not by the effect it had on the treasure but by the effect it had on the giver." @UchtdorfDF | #GeneralConferencepic.twitter.com/iQi52JP8ph

— General Conference (@ldsconf) April 3, 2022
Balancing time and aspirations to become like Christ can be like riding a bicycle, which takes time and effort to practice but can ultimately become seemingly effortless, the apostle said.
"Every time I watch someone learn to ride a bike for the first time, I'm reminded that it's not easy to balance yourself on those two narrow wheels," he said. "It takes time. It takes practice. It takes patience. You even have to fall once or twice."
"Staying balanced is all about moving forward," he added.
In other words – and in a much more apt analogy, the former pilot and German airline executive Lufthansa joked: "Discipleship, like most things in life, can also be compared to piloting an airplane. "
"If we want to find balance in life and if we want the Savior to lift us up to heaven, then our commitment to Him and His gospel cannot be occasional or occasional," Elder Uchtdorf said. "Like the widow of Jerusalem, we must offer our whole soul to him. Our offering may be small, but it must come from our hearts and souls. Being a disciple of Jesus Christ is not just one of many things that we do."
"When we look at our lives and see a hundred things to do, we feel overwhelmed. When we see one thing – to love and serve God and His children, in a hundred different ways – then we can work on those things with joy." @UchtdorfDF | #GeneralConferencepic.twitter.com/c4cFtocdtt

— General Conference (@ldsconf) April 3, 2022
Balance and elevation require focus on what's important to take off, just as elevation in the gospel sometimes requires sacrifice to become a disciple of Jesus Christ, Elder Uchtdorf said. Members of the Church may not be required to sacrifice everything to God, but "all are invited to consecrate our lives to him."
Such consecration helps to realize what is important and what matters most, he said.
"When we look back at our lives and see a hundred things to do, we feel overwhelmed," Elder Uchtdorf said. "When we see one thing – loving and serving God and His children, in a hundred different ways – then we can focus on those things with joy. This is how we offer our whole soul – sacrificing all that holds us back and consecrating the rest to the Lord and his purposes."
—Sean Walker