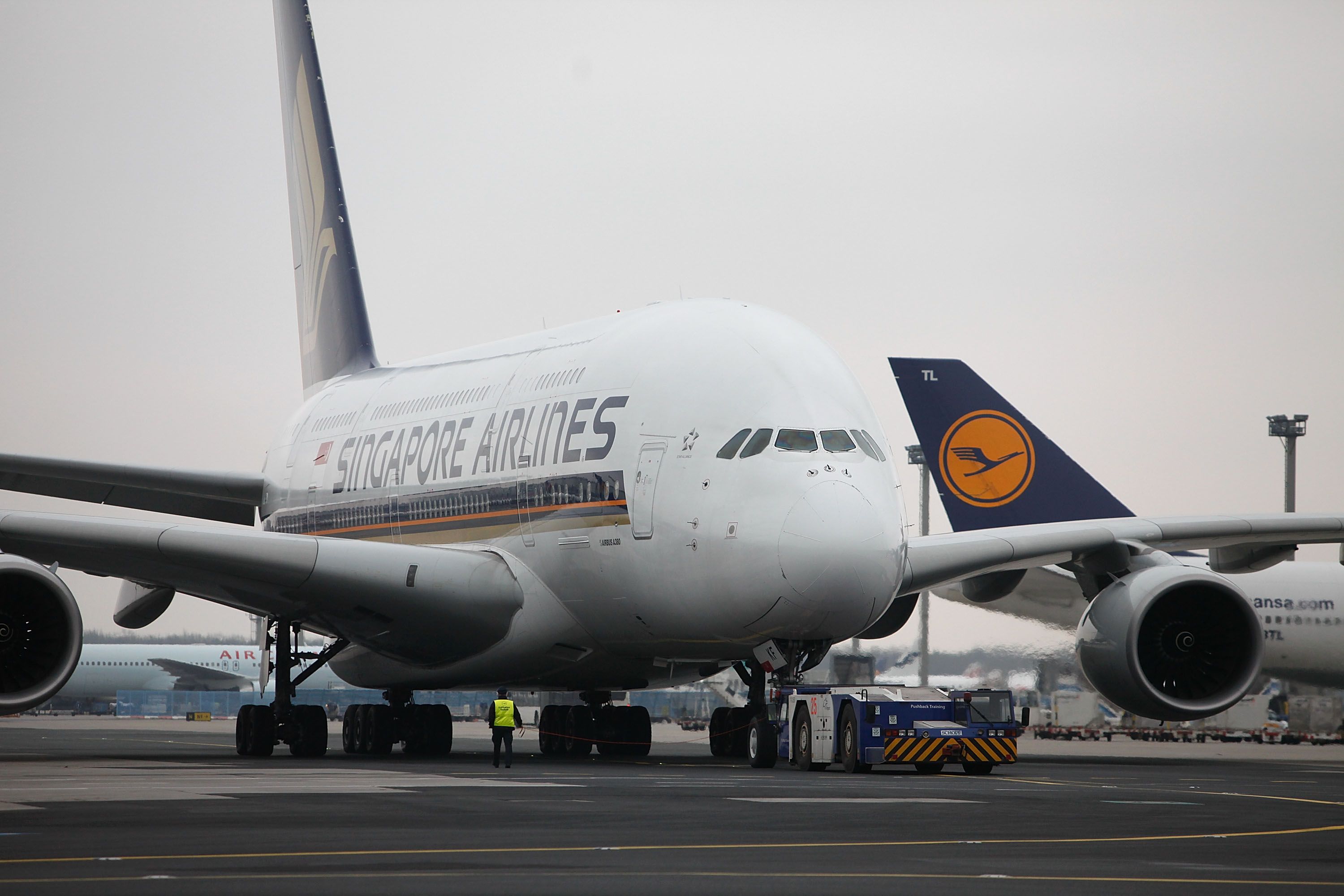 Singapore Airlines celebrates 50 years of flying from Frankfurt Airport
Airlines to Singapore

IATA/ICAO code:

SQ/AIS

Airline type:

Full service carrier

Hub(s):

Singapore Changi Airport

Year of foundation:

1972

Alliance:

star alliance

CEO:

Goh Chun Phong

Country:

Singapore

Frankfurt Airport

IATA/ICAO code:

FRA/EDDF

CEO:

Stefan Schulte

Number of passengers :

24,814,921 (2020)

Tracks :

07L/25R 2,800 m (9,240 ft) |07C/25C 4,000 m (13,123 ft) |07R/25L 4,000 m (13,123 ft) |18 4,000 m (13,123 ft)

Terminals:

Lufthansa First Class Terminal | Terminal 1 | Terminal 2 | Terminal 3 (under construction)

Country:

Germany
Singapore Airlines recently logged half a century of flights to Frankfurt. On August 3, 1972, the inaugural flight took off from Singapore and landed at Rhine-Main Airport in Frankfurt as Malaysia-Singapore Airlines. It was the first of many flights that ultimately established a lasting political, economic and tourism relationship between the airline and Germany.
Three stops in a Boeing 707
Meanwhile, Malaysia-Singapore Airlines flew three times a week to Frankfurt using a Boeing 707-327, which had only two cabin classes – first and economy class. What's more interesting is that non-stop flights weren't as common as they are today, meaning the airline made a few stops before reaching Frankfurt.
On Wednesdays, Fridays and Sundays, Malaysia-Singapore Airlines flight ML783 would fly from Singapore to Mumbai for a short ground time of around 1.5 hours before continuing to stop in Bahrain. After another short stopover, ML783 would fly to Rome for the third stopover before finally landing in Frankfurt around 07:25. However, ML783's final destination wasn't really Frankfurt, it was London Heathrow.
The aircraft that made the maiden flight (pictured above) was registered as 9V-BDC, first flying in 1967. Photo: Singapore Airlines
Eventually, flights to Frankfurt were upgraded to four times a week in 1973 under the current Singapore Airlines brand (Malaysia-Singapore Airlines disappeared a year before). And then, 45 years ago, in 1987, the route was further improved and remained a non-stop service. The aircraft on the road was also upgraded from the Boeing 707 to SIA's famous Boeing 747-400 "Megatop".
Stay informed: Sign up for our daily and weekly summaries of aviation news.
10th anniversary of Frankfurt with the Airbus A380
Frankfurt has undoubtedly been mainland Europe's most important hub for Singapore Airlines since its inception, with various routes in the 1970s and equally vital routes today. Today, passengers can connect from Frankfurt to New York JFK on a fifth freedom flight. Before the pandemic, almost 700,000 passengers traveled with the national carrier from Frankfurt each year.
With this massive number of passengers, it makes sense that Singapore Airlines chose Frankfurt as the first European hub to see its biggest plane to date. Ten years ago, in 2012, Rhine-Main Airport was the first European destination for Singapore Airlines' Airbus A380 when the Boeing 747-400 was replaced, with daily flights from Frankfurt to John F Kennedy of New York and Singapore.
At the time, Singapore Airlines Commercial Executive Vice President Mak Swee Wah said:
"The introduction of the A380 to Frankfurt is another milestone for Singapore Airlines. For Germany, this means offering our customers the latest cabin products on our two daily flights from Frankfurt as well as our daily flights from Munich. ."
A modernized return to Frankfurt
For two years, since March 2020, Singapore Airlines has flown to Rhine-Main Airport using the Airbus A350 or Boeing 777-300ER as the pandemic has seen the near-eternal storage of the beloved Airbus A380s. However, the importance of the route meant that it was one of the first to see the return of the superjumbo as demand increased.
In March, the Star Alliance member airline brought the newly upgraded version of its Airbus A380s back to Frankfurt. The superjumbo is highlighted by six super spacious first class "suites", each with separate reclining seats, beds and a sliding door for added privacy. The aircraft also offers 78 business class stretch seats, 44 premium economy class seats and 343 economy class seats.
The new First Class suites, which measure around 50 square feet and can be pushed together to make them double in size with a shared double bed, are double the size of the first 12 First Class spaces offered on the Airbus A380s that Frankfurt enjoyed before the pandemic.
Singapore Airlines has bigger goals for Frankfurt, starting with future passenger numbers. Photo: Vincenzo Pace | single flight
Future ambitions for Frankfurt
After five decades, Singapore Airlines has truly evolved its relationship with Frankfurt – from stopovers to direct flights, from four times a week frequencies to daily schedules. Currently, the airline offers two daily departures from Frankfurt. The first is operated by the A380 and flies to New York as the SQ25. Singapore Airlines a second direct flight from Singapore to Frankfurt as SQ326, using the Airbus A350-900.
The airline has bigger ambitions for Frankfurt and is looking to see passenger numbers at the German airport soon top the one million mark. Given the success of the past 50 years, this heightened ambition should be an easy feat for Singapore Airlines and Frankfurt, as they look forward to several years ahead.