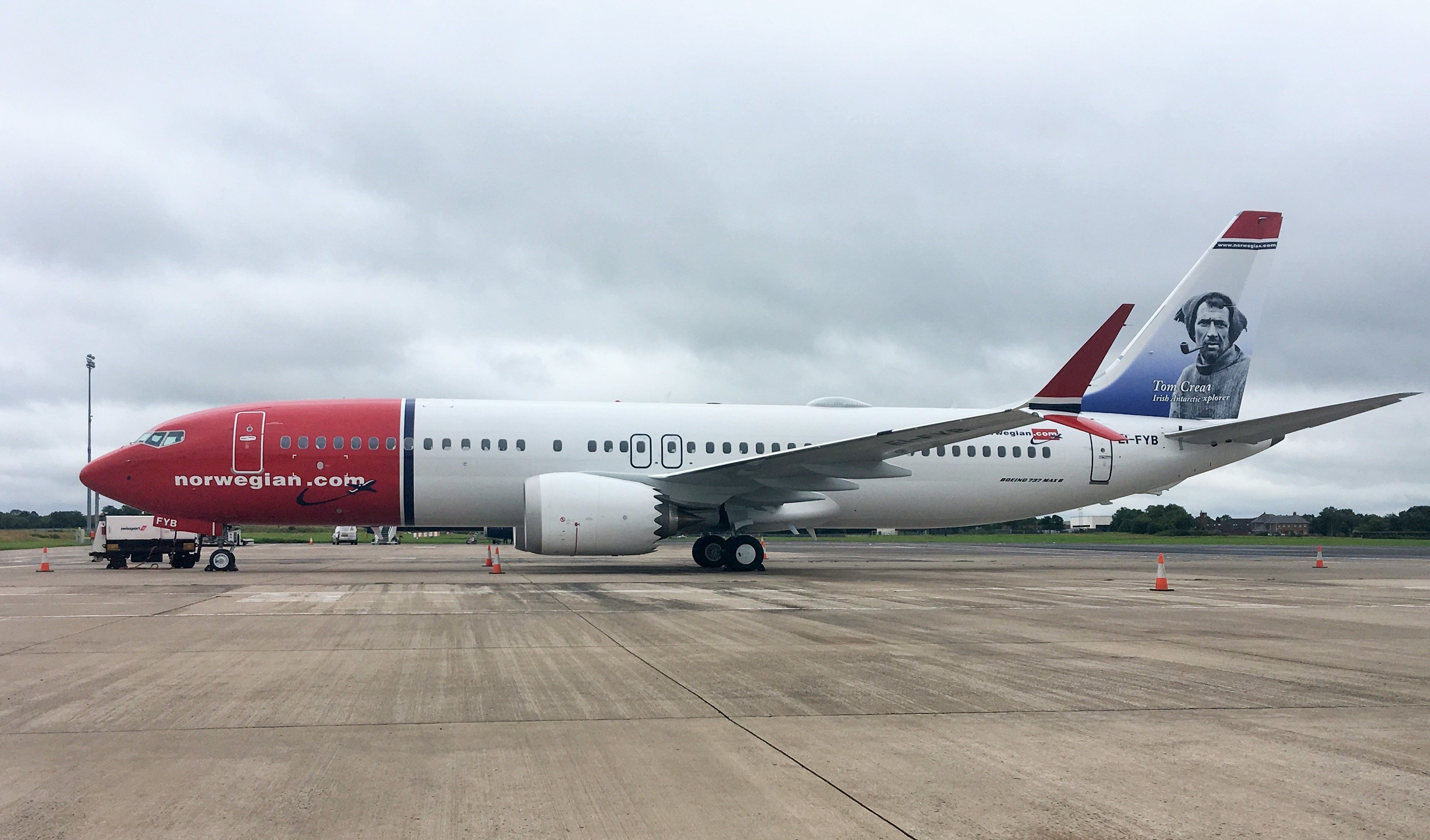 Norwegian recovery continues to exceed 1.6 million passengers in May
Although it recorded a pre-tax loss of NOK 1.03 billion ($104.3 million) in the first quarter, compared to a loss of NOK 1.19 billion ($124.9 million) a year earlier earlier, Norwegian continues to experience increased growth in passenger numbers. The low-cost carrier's figures for May showed it carried more than 1.6 million passengers, a strong sign of a positive recovery.
Improved performance
In May, Norwegian operated an average of 64 aircraft. This brought capacity to 2.459 million available seat-kilometres, 23 times more than in May last year and a 10% increase on the previous month. Norwegian welcomed 1,628,040 passengers in May alone, compared to just 96,909 in the same period before. But it wasn't just available seats that improved, as its load factor also rose 24 points to just over 79%, compared to the relatively low level of 54.8% for the same period l last year.
Measured by the number of flights departing within 15 minutes of the scheduled time, punctuality was 84.9% in May, down from 82.6% last month. Up to 97% of all flights arrived on time or no more than an hour late. Average flight distance increased by 108% but, thanks to its modern and fuel-efficient fleet, Norwegian produced only 81g of CO2 per revenue passenger kilometer, or 40% less carbon emissions than Norwegian. 'last year.
As the summer season gradually settles in, Norwegian expects passenger numbers to continue to rise, as it notes that bookings for the peak travel period have increased. The low-cost carrier is gearing up for more business, as CEO Geir Karlsen pointed out:
"As we approach the busy summer months, we continue to ramp up production as planned to meet growing demand. Despite capacity constraints at some airports, we are managing to operate almost 100% of our 400 daily scheduled flights with great punctuality.
In May, Norwegian opened several new routes to meet growing demand. Photo: Norwegian
An improving fleet
Since emerging from insolvency, Norwegian has focused on rebuilding its operations as a low-cost regional carrier, a radical shift from its previous business model of discounted long-haul flights. A key part of its rebuild includes revamping its fleet, which is why Norwegian had reached an agreement in principle with Chicago-based aircraft manufacturer Boeing for the bulk purchase of 50 Boeing 737 MAX aircraft.
The airline will take delivery of the aircraft between 2025m and 2028m and expects to finalize the order, which also includes options for 30 additional aircraft, by the end of this month. Norwegian expects to secure the necessary funds through positive cash flow from its airline operations for pre-delivery payments on the new bulk order.
Norwegian currently has 64 Boeing 737-800s and three Boeing 737 MAXs. The airline plans to operate 70 aircraft for the summer season. With the long-haul business model now gone, Norwegian will use its fleet for short-haul leisure destinations, but will face fierce competition from Eurowings and Ryanair. From its accelerated summer schedules, it would seem that Norwegian only lacks direct competition for destinations such as Bastia, Budapest, Catania, London Gatwick, Sarajevo, Santorini and Tel Aviv.
Norwegian also plans to offer 1.74 million seats from its recently reopened Arlanda base this summer, up from a larger 2.56 million from summer 2019. Picture: Norwegian
At the end of the line
Norwegian has gone through a few highs and several lows in its outstanding shares, mainly due to the pandemic. Hopefully, the busy summer season will be more than enough to get the low-cost carrier back on track financially and help it in its bid to pay those pre-delivery payments successfully. In terms of passenger numbers, there's no doubt that the upward trend will soon leave Norwegian, and it may even hope to top two million passengers soon.