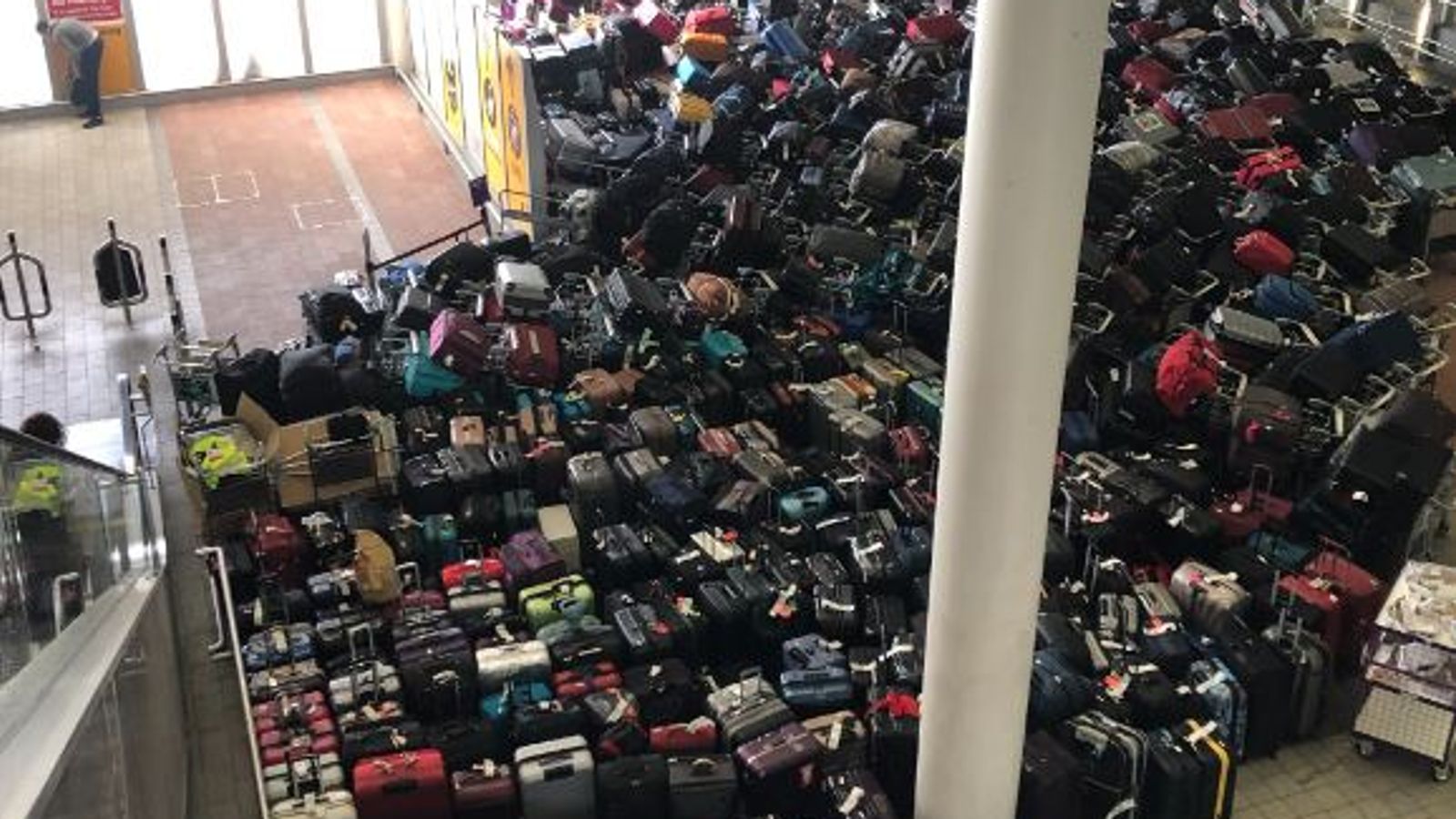 Heathrow asks airlines to cancel 10% of flights today as airport faces baggage backlog | Economic news
Heathrow has asked airlines to cancel 10% of their flights today as the airport faces a baggage backlog.
Problems with the baggage system have left hundreds of travelers wait about three hours on weekends to collect their luggage, without any explanation from the staff.
It's unclear how many airlines will comply with the request, but thousands of passengers are expected to be affected.
Airlines that canceled flights today include Virgin Atlantic, Flybe, Air France, Air Canada, TAP Portugal, Loganair, British Airways, Delta Air Lines, Brussels Airlines, Scandinavian Airlines, Aer Lingus, ITA Airlines, Eurowings, Lufthansa , KLM and Bulgaria Air .
A Heathrow spokesperson said: "We apologize unreservedly for the disruption passengers have experienced over the weekend.
"Technical issues affecting baggage systems have led us to take the decision to ask airlines operating in Terminals 2 and 3 to consolidate their schedules on Monday June 20.
"This will allow us to minimize the ongoing impact and we ask all passengers to check with their airlines for the latest information."
People wait 'hours' for their luggage at Heathrow

Heathrow, like airports and airlines across the country, is struggling with staff shortages during the busiest season of the year, which has led to the cancellation of hundreds of flights in recent weeks.
Friday, a 'a huge baggage carousel' has been spotted outside a Heathrow terminalas staff struggled with a "persistent problem with the baggage system".
Travelers told Sky News there were huge queues at border control on landing and large crowds when claiming baggage over the weekend.
Some passengers had been forced to travel without their personal belongings.
Baggage chaos at Heathrow

Meanwhile, easyJet has announced plans to cut more flights over the busy summer period as he apologized to customers for not 'providing the service they expect from us'.
A number of flights to and from Gatwick will be canceled in response to the airport's announcement last week that it would introduce flight caps in July and August to help it cope with a shortage of personal.
The airline blamed staff shortages at ground handling and airports, as well as air traffic control delays for increased turnaround times, delayed flights and cancellations.