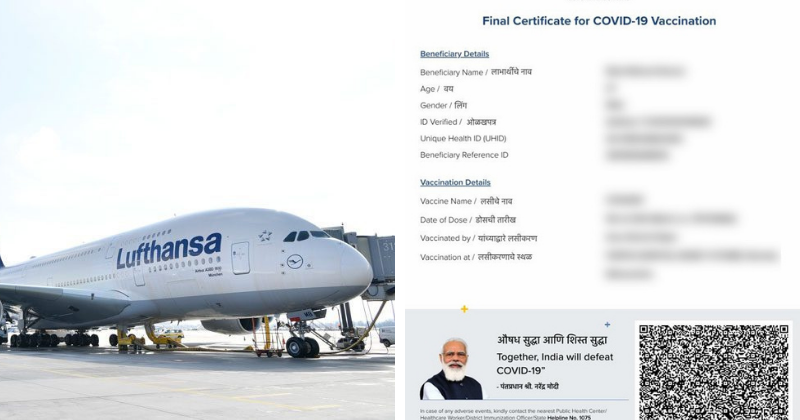 Germany accepts Covishield but Indians refused entry due to lack of DoB on CoWin
Although Germany accepts Covishield and allows travelers who have received the two India-made vaccines to enter the country, some people are said to be struggling to do so.
Several tweets emerged where people claimed they were unable to board the flights of Lufthansa, Germany's largest airline, despite vaccination certificates.
Apparently, the issue of the lack of a date of birth on the vaccination certificate is the reason why travelers were not allowed to board the flights. However, the certificate issued by CoWin has no category for DoB.
On the other hand, the directives put in place by the German authorities stipulate that the traveler's vaccination certificate must contain "the personal data of the person vaccinated (at least the first name, the last name and the date of birth)".
Now, since the provision does not exist on the CoWin certificate, a plethora of confusion has been created due to which some passengers have had to suffer besides spending more time and money to get to their destination.
Indetimes contacted Sammedh Jain who had taken to Twitter to express his unfortunate experience with Lufthansa and the events that followed.
According to Mr Jain, a resident of Stuttgart, Germany, his in-laws intended to travel to the European country by Lufthansa. However, when they reached Bangalore Airport after driving for eight hours from Mangalore, the couple were told during check-in that their documents were insufficient.
It is very disgusting and shameful of Lufthansa not to accept the Covid Vaccine Certificate (Covishield) which has been issued by the Indian government. Can anyone help? .@AmitShahOffice @DrSJaishankar @Tejasvi_Surya @annamalai_k @BSYBJP @RashokaBJP @Lufthansa_India

– Sammedh Jain (@ jainsammedhgma1) July 15, 2021
With their visas in place along with their vaccination certificates, the couple had to wait at the airport for seven hours while airline authorities demanded more documents. Their boarding took place at 3 a.m. and the elderly couple were refused entry at 1:30 a.m.
"When checking in at the Lufthansa counter, ground staff requested unnecessary documents that are not required for check-in," Jain said. Indetimes.
"I live in Germany and we instantly provided all the paperwork, everything they needed, but they just lost 2.5 hours. Finally Lufthansa denied boarding saying no DoB on the vaccine certificate," he added.
He also said: "They blamed the German police. Then we called the German police here and they said they didn't have rules like that.
Why is the Covishield vaccination certificate not valid for travel and why Lufthansa insists on the date of birth of the vaccination certificate? Lufthansa refused my parents to board the flight at the last moment for this reason. Can anyone help? @Lufthansa_India @GermanCG_BLR @JM_Scindia @PMOIndia

– Sammedh Jain (@ jainsammedhgma1) July 16, 2021
Apparently, the ground staff member asked Mr. Jain's in-laws to produce, among other documents, the copies of their grandchildren's passports.
"We had submitted all of this to get the visa but she (a member of the ground staff) started asking for it all to waste time."
What's fishy here is that after the couple were turned back on the flight, they were told by airlines to take the same flight two days later. Mr Jain believes the flight was overbooked and it was a way to deny boarding to passengers.
The same tickets were transferred and the couple made it to Germany successfully while the same ground staff were on duty, but without any further questions about vaccination certificates and date of birth this time around.
Mr Jain's in-laws had to spend more money and time to reserve a seat for two days while they waited for their next flight.
There are many legitimate documents that bear the date of birth; the CoWin certificate does not have such a category, but it does have one for the passport number which additionally contains your date of birth.
A few others tweeted along the same lines as Mr. Jain on the microblogging site.
Hey @lufthansa @Lufthansa_India
I was disembarked last night because my Indian CoviShield certificate did not have a date of birth. This is not listed as a requirement anywhere.
I had a digital pass, a valid Schengen visa, a -Ve Covid test, a COVID certificate, a quarantine addition.
Continue 1/2

– Shayamal (@shayamalv) July 17, 2021
Although he meets all the requirements, a German policeman from @Lufthansa_India the office refused me entry. I was in contact with the embassy which gave me no information.
Now the airline refuses to reimburse me or give me a credit.
Deeply disappointed 😔

– Shayamal (@shayamalv) July 17, 2021
@AmbLindnerIndia Please help.
It has come too far for a lot of people. @Air France Have been kind enough to offer credit vouchers knowing full well that the situation is sensitive and that people are stuck. I feel like the German national carrier @lufthansa take advantage of ppl.

– Shayamal (@shayamalv) July 17, 2021
Dear Sir @AmbLindnerIndia
I hope you're okay. There is a small problem when boarding the flight @lufthansa request a COVID certificate (Covishield) with the date of birth mentioned. I hope this confusion will be resolved as soon as possible.
Thank you very much in advance and have a good day.

– Arun Kumar (@ ArunKum10024654) July 16, 2021
What do you think of that? Let us know in the comments.