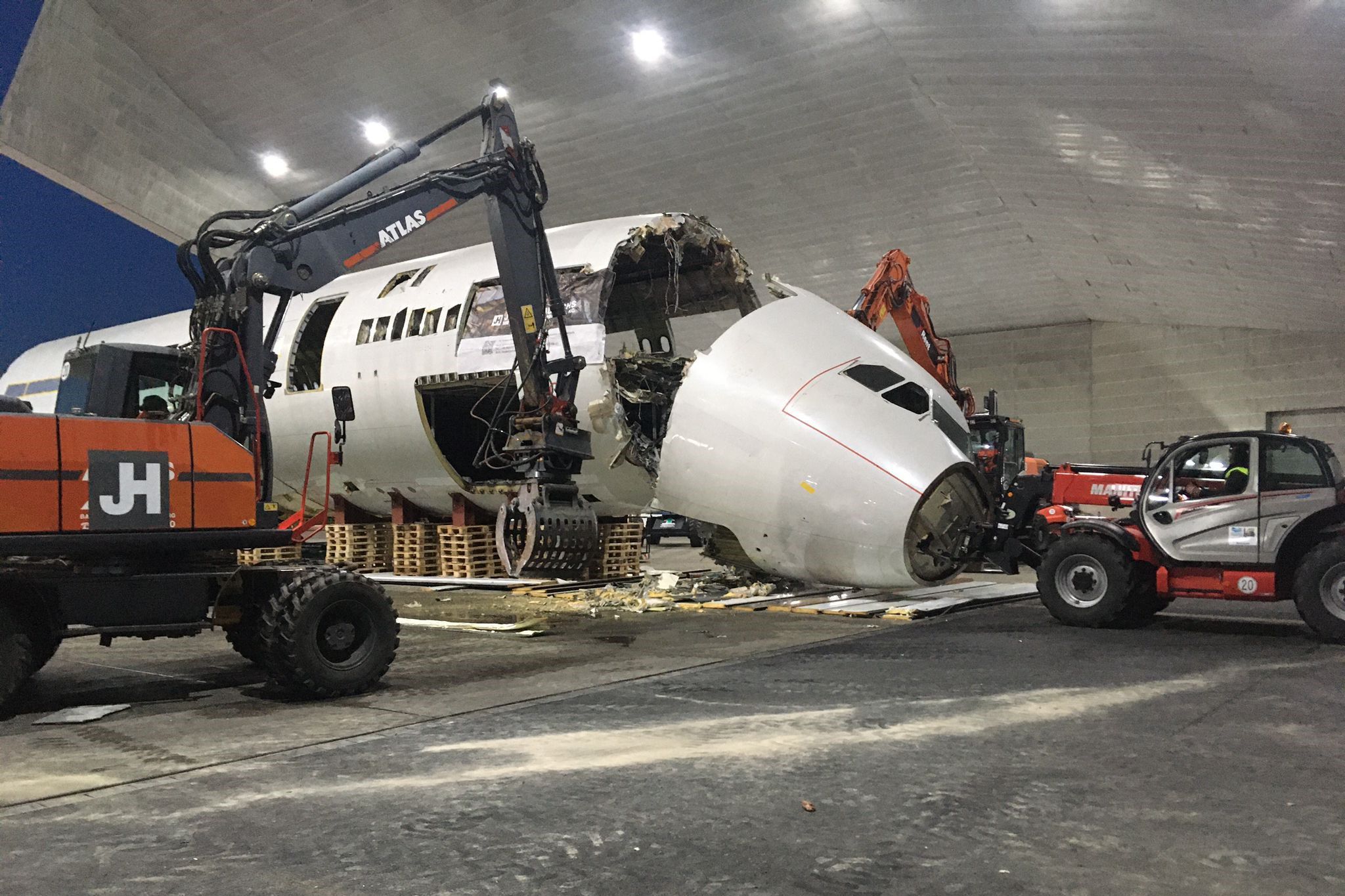 Ex-Virgin A330-200 scrapped and recycled in Germany
A former Virgin Atlantic, Air Berlin and LTU International Airways Airbus A330-200 is scrapped and recycled in Germany. Aviationtag uses materials from the retired aircraft to produce tags that the company says can be used as luggage tags or key fobs.
The Airbus A330-200 was delivered to LTU International Airways in Germany as D-ALPA in May 2001, before being transferred to Air Berlin in March 2009. The aircraft remained red when in February 2018, it was incorporated into the Virgin Atlantic fleet and re-registered. as G-VMNK.
According to data from ch-avitaion.com, G-VMNK has completed more than 79,000 flight hours in more than 11,000 flight cycles. The average flight time over its lifetime was six hours 43 minutes, reflecting its mix of short-haul and long-haul European services with LTU and Air Berlin, and its exclusively long-haul flights with Virgin Atlantic.
Virgin Atlantic and the Airbus A330-200
Prior to the pandemic, Virgin Atlantic operated four Airbus A330-200s, which joined the fleet in 2018. The aircraft were based at Manchester Airport (MAN) and operated transatlantic services to Atlanta, Barbados, Boston, New York JFK and San Francisco. They were to fly on the airline's planned route from Manchester to New Delhi, but this never materialized due to the pandemic.
Upon delivery, Virgin Atlantic upgraded the aircraft from a two-class configuration to a three-class configuration, installing the airline's Premium Economy seat. The plane had 19 flat beds in upper class, 35 seats in Premium Economy and 212 seats in Economy.
Being older than most aircraft in the airline's fleet, passenger reviews were often mixed. A particular cause for adverse reviews was the 30-inch seat pitch in economy class, compared to the 31 inches found on the airline's Airbus A330-300s. For upper-class passengers, none of the four planes featured the airline's famous onboard bar. During this time, the software product was the same as on other Virgin Atlantic flights, including the Vera in-flight entertainment system and in-flight service.
[email protected]
via Wikimedia Commons"' data-modal-id="single-image-modal" data-modal-container-id="single-image-modal-container" data-img-caption='""'>
Their time with the airline, however, was short-lived. Throughout the pandemic, three of the four planes have been stored at Manchester Airport and one at Düsseldorf Airport (DUS). Although they continued to operate a number of flights from Manchester, they were phased out of the fleet and in May 2022 Virgin Atlantic officially announced the retirement of its last A330-200 (G-VLNM) , declaring,
"While we are sad to see them go, it opens the door for our younger, more efficient aircraft to arrive."
Although Virgin Atlantic no longer operates Airbus A330-200s, it still has ten Airbus A330-300s in its fleet. However, as deliveries of Airbus A330-900s arrive, the -300s will be phased out and the airline expects them all to be replaced by 2024.
The former Virgin Atlantic Airbus A330-200 is currently being scrapped and recycled in Germany. Photo: Aviation tag
Aviationtag – recycling retired aircraft
This is not the first time that Aviationtag has recycled a retired aircraft. The company began recycling in 2015, preserving parts of aviation history for collectors and enthusiasts. In the past few months alone, it has sold tags made from an ex-KLM Boeing 747-400, and others from an ex-All Nippon Airways Boeing 737-700.
A few months ago, the company also held a charity auction of tags, some of which belonged to a former EVA Air Boeing 747-400, raising more than €8,000 ($8,070) for hospice for children in Cologne, Germany.
Have you flown on G-VMNK? Share your experiences by commenting below.