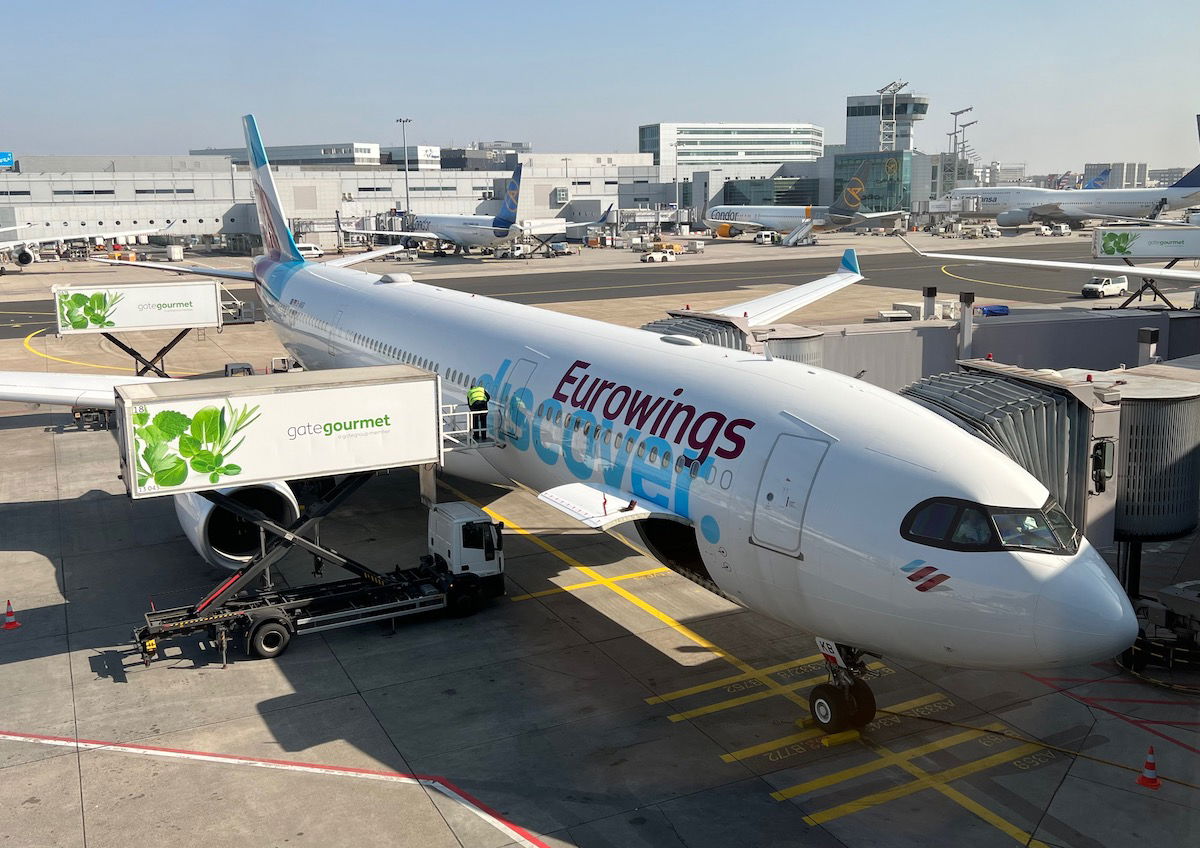 Eurowings Discover Salt Lake City flight continues to stop in Canada
Eurowings Discover appears to be having trouble operating its new flight between Salt Lake City (SLC) and Frankfurt (FRA) reliably, as it has now stopped several times in Canada. I thought this would be an interesting topic to discuss on many levels.
Eurowings Discover having trouble in Salt Lake City
Eurowings Discover is Lufthansa's low-cost long-haul airline. The airline serves several destinations in the United States, and I reviewed business class service from Tampa to Frankfurt a few months ago.
The airline also flies between Salt Lake City and Frankfurt, but the route has had some problems in recent weeks. Four of the last five frequencies of the route required a refueling stop on the eastbound sector:
The flight stopped three times in Halifax (YHZ)
The flight stopped once in Toronto (YYZ)
Why would a refueling stop be necessary, when this 9:30 am flight is usually well within range for an Airbus A330-300? By the way, the westbound flight takes longer, so why is there a problem on the eastbound flight?
This goes back to the fact that Salt Lake City is experiencing a heat wave right now, and high heat and winds can impact aircraft performance. This is especially true for a high altitude airport. So while an A330-300 could normally operate this route without issue, current conditions mean the aircraft would have to take off from Salt Lake City heavily weight restricted.
This could be accomplished in a number of ways – the airline could leave passengers behind, leave luggage behind, or instead fly to an intermediate point to refuel. Moreover, the airline could reschedule the flight so that it leaves later in the evening, when the temperatures are less problematic.
Eurowings Discover chose to add only one refueling stop, which delayed the arrival time in Frankfurt by two to three hours.
Blame it on Eurowings Discover?
Fox 13 Salt Lake City turned these refueling stops into a sort of "investigative" story, as is often the case on local news channels. You can watch it here. A passenger was interviewed, who was flying from Salt Lake City to Frankfurt to Copenhagen to Bergen, in order to take a cruise.
Due to the delayed arrival in Frankfurt, he ended up missing his connection and then his luggage didn't end up arriving on the cruise until 3.5 days later.
The news station interviewed a licensed airline dispatcher, who said the airline shouldn't be surprised that it's hot in Salt Lake City in July, and that the airline should factor that into its weight equations and fuel.
He said passengers should file complaints with the US Department of Transportation because the airline is marketing a nonstop flight when it's not actually multi-day nonstop. He claims the DOT has the power to do something about it.
Personally I am a little more sympathetic to Eurowings Discover in this case:
Yes, it can be hot in Salt Lake City in the summer, but it seems to be particularly hot right now; if it becomes a problem for a month or more, i think serious schedule adjustments need to be made
Yes, the airline could restrict seats or luggage further so the flight could operate non-stop, but I would imagine passengers wouldn't be happy either if they got hit because of that, or if their luggage was left behind
Travel to and from Europe is chaotic at the moment, and I think people should be prepared for things not to go as planned, especially if they are embarking on a cruise; in fairness many passengers probably booked long before the summer travel rush
Maybe I'm being too lenient with Eurowings Discover, though. Delta operates flights from Salt Lake City to London with A330-200s, and these have had no refueling stops. In fairness, the London route is a bit shorter, and the Amsterdam and Paris routes are operated by the A330-900neo, which offers better performance.
The A330-200 performs better than the A330-300 for these kinds of situations, so maybe it's time Eurowings Discover flew the A330-200 to Salt Lake City (the airline owns also some of these planes)?
I think the best advice for passengers (which is not mentioned) is that if they arrive at their final destination four or more hours late, they would be entitled to 600 euros each in compensation under the policy EU261. This is in addition to any compensation for delayed baggage.
At the end of the line
Eurowings Discover is in trouble with its Salt Lake City-Frankfurt flight. Due to the high temperatures and high altitude in Salt Lake City, the aircraft was unable to take off with a full load and sufficient fuel. Rather than leaving passengers, baggage or cargo behind, the airline is instead making fuel stops in Canada.
Is it annoying? Sure. But in the scheme of things that airlines do these days, I personally don't think it ranks that high there.
What do you think of Eurowings Discover's SLC problems? Is the airline to blame, or is it just a cost everyone has to pay when temperatures get so high?
(Hat tip to Scott)