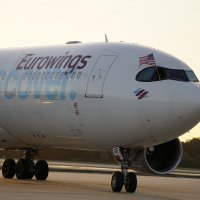 Eurowings Discover Launches US Service at TPA | Tampa International Airport
Tampa welcomed the new leisure airline's first non-stop U.S. flight, from its Frankfurt base
With a welcome greeting for the American flag-waving crew, Eurowings Discover landed its first American flight at Tampa International Airport at sunset Thursday evening, December 16, introducing the new Lufthansa Group leisure airline to the United States. TPA officials and representatives from the Lufthansa Group and Eurowings Discover gathered at TPA to celebrate the region's first non-stop service to the European Union since the start of the pandemic.
Eurowings Discover CEO and Lufthansa Group Senior Captain Wolfgang Raebiger was there not only to join the celebration, but also to transport outgoing airline passengers from Tampa to Frankfurt.
"Eurowings Discover provides reliable and quality service to the world's most beautiful destinations," said Raebiger. "In addition to the Tampa flight, we will be launching six additional destinations in the United States and Canada in 2022, including round-trip service from Fort Myers, Fla. To Frankfurt."
Florida is the Lufthansa Group's most prolific US market, with gateways like Miami and Orlando, and Fort Myers slated for 2022.
"Germans love Florida," said Silke Wobken, Lufthansa Group Senior Director of Sales for USA East, who was also at TPA to celebrate.
The Lufthansa Group Eurowings Discover (4Y065 / LH4401) will depart Tampa at 7.20 p.m. and arrive in Frankfurt at 10.30 a.m. on Tuesdays, Thursdays, Fridays and Sundays aboard an Airbus A330-200. Flight 4Y064 / LH4400 departs Frankfurt, Germany at 12:40 p.m. and arrives at Tampa International Airport at 5:35 p.m.
Customers will benefit from a direct connection to the Lufthansa Group Frankfurt hub, as well as an extensive global network, including connections via Lufthansa, Austrian Airlines and SWISS, as well as codeshare flights with United Airlines and Air Canada . In addition, from 2 March 2022 SWISS, operated by Edelweiss, will resume its weekly non-stop flights from Tampa to Zurich.
"The United States remains the most important market for the Lufthansa Group outside of our European bases, and we remain committed to the region as we plan our recovery from the impacts of the pandemic," said Frank Naeve, vice-president. President of Passenger Airlines Sales, The Americas, Lufthansa Group. "Tampa is now our 18th gateway in the United States, and Florida has our largest footprint, with more Lufthansa Group gateways than any other state in the country. Florida travelers benefit from the extensive network we provide and we continue to see strong demand for travel to the region.
"To be Eurowings Discover's premier US marketplace is a huge honor for us," said Joe Lopano, CEO of Tampa International Airport. "The resumption of non-stop flights to Frankfurt offers our travelers countless adventures in Europe and beyond, while injecting millions of tourism dollars into our region. We are grateful for our strong partnership with the Lufthansa Group and remain committed to supporting their growth in Tampa Bay. Lopano said.
The travel experience
Eurowings Discover will operate an Airbus A330-200 on the route to Tampa. The aircraft has 22 Business Class seats, 17 Premium Economy Class seats and 231 Economy Class seats, 44 of which offer additional legroom. The main benefits and features of the travel experience with Eurowings Discover include:
Advanced boarding privileges for all families with young children
Reclining business class seats with 6.5 feet of reclining space and a 15-inch personal entertainment system
Comfortable 115 cm wide seats, foot and leg rests, generously adjustable backrests, large HD screens and USB port and 110 V power outlet in Premium Economy
In economy class, seats in 76 cm steps, up to 87 cm for seats with additional legroom
A free entertainment program, which passengers of all classes can use on their own device via the Onboard Cloud
Free meals and non-alcoholic drinks for all travelers, including beer and wine in Premium Economy and a wider selection of drinks in Business Class, courtesy of the airline. Economy class passengers can purchase additional snacks and alcoholic beverages.
Sustainable materials instead of plastics and disposables. There is also an option on board for passengers to offset the CO2 emissions inevitably caused by their flight thanks to the Lufthansa Group. Compensated Platform.
Checked baggage to the travelers' final destination thanks to ground services integrated into the hub
About Eurowings Find out: Eurowings Discover is the new leisure airline of the Lufthansa group which transports travelers from the Frankfurt hub – and from summer 2022 also from Munich – to the most beautiful local and long-haul destinations in the world. Eurowings Discover's mission is to tailor the travel experience to the individual needs of its customers and to make flying a special experience. Through integration into the Lufthansa network, travelers benefit from direct connections to all German and European Lufthansa departure points, as well as an end-to-end booking process and seamless transfers. As a 100% subsidiary of Deutsche Lufthansa AG, the airline draws on the expertise and experience of one of the world's leading airlines. Flights can be booked on lufthansa.com and eurowings.com.