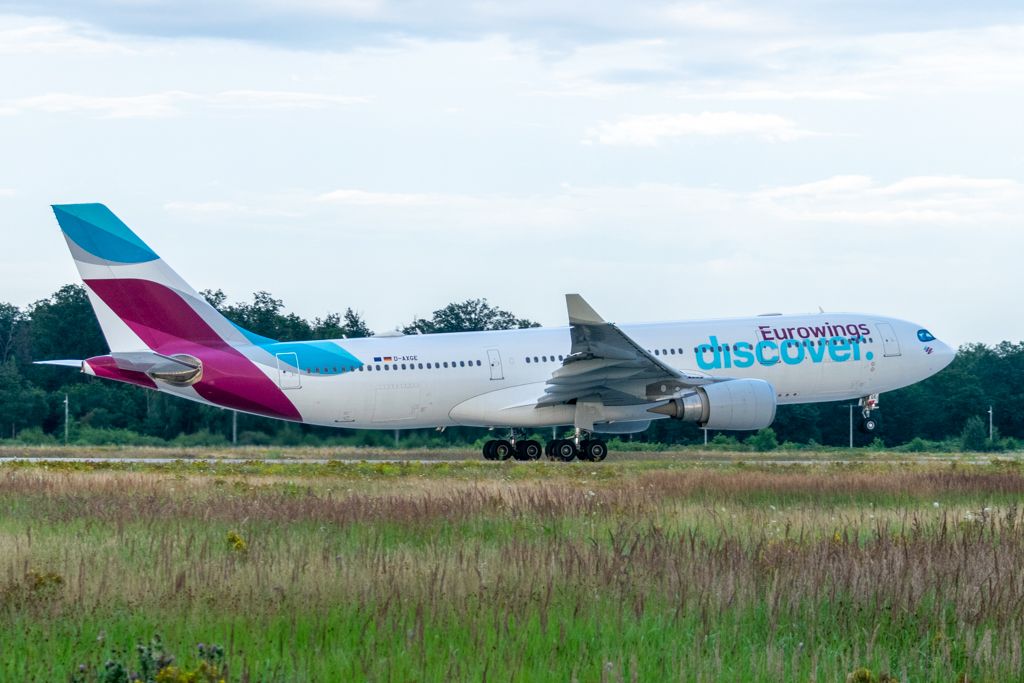 Eurowings Discover adds Kruger National Park using Airbus A330
Eurowings Discover will serve Kruger Mpumalanga International Airport, gateway to one of the world's best known and largest national parks. It is also the airport for the city of Nelspruit.
Although flights are not yet bookable, they will begin in mid-November, in time for the Southern Hemisphere's summer season – although the best time to visit Kruger National Park is winter. There will be services three times a week, likely using 270-seat A330-200s.
Eurowings Discover launched in August 2021. Photo: Windhoek Hosea Kutako International Airport.">
Kruger Mpumalanga will operate via Windhoek, which Eurowings Discover launched in August 2021. Pictured: Windhoek Hosea Kutako International Airport.
Frankfurt to Kruger National Park
This will be the first time that Kruger Mpumalanga will host flights from beyond southern Africa. Currently, the only international route is a three-week service to Victoria Falls, Zimbabwe. It is 605 miles (973 km) away and uses FastJet Zimbabwe's 50-seat Embraer 145s.
It's not for the airport runway — it's 10,171 feet (3,100 meters) — or other infrastructure. It is rather for the fact that, until now, most passengers simply passed through Johannesburg. It's a mere 30-minute flight, and the route is the busiest in the network of Airlink, South Africa's largest airline. Writing in a news article, Eurowings Discover said:
Never before has the Kruger National Park, which is particularly popular with German holidaymakers, been reached faster and more directly.
Grandstands, terminal and airport surroundings to accommodate Eurowings Discover. Photo: via Kruger Mpumalanga International Airport.
It will be served via Namibia
The route will be a 'terminator' service, operating Frankfurt-Windhoek-Kruger Mpumalanga-Windhoek-Frankfurt. According to Cirium, the Namibian capital will be Eurowings Discover's busiest long-haul route this summer and its fourth busiest overall. It has a once-a-day service, which will continue through winter.
Several carriers have served Windhoek from Frankfurt over the years, including Air Namibia (until 2020) and Condor (2014-2019). Eurowings (not to be confused with Eurowings Discover) launched it in 2019, and Lufthansa replaced it in June 2021.
Eurowings Discover replaced Lufthansa in August 2021, reflecting the strategic positions, targeted passengers, cost structures and relative strengths of the two operators. It is likely to operate the route for the foreseeable future.
The route each way is 5,905 miles (9,503 km). Image: Cirium.
stay aware: Sign up for my weekly newsletter on new routes.
Victoria Falls and Kilimanjaro are coming
Eurowings Discover will inaugurate Frankfurt to Victoria Falls, via Windhoek, on March 29. It will take place every three weeks and can be booked until November 12. This suggests that Kruger Mpumalanga will replace the Zimbabwean tourist hotspot, although this is unconfirmed. From Frankfurt to Kilimanjaro, meanwhile, will begin on June 3 with two weekly flights via Mombasa in both directions.
The carrier is increasingly focusing on Africa. This year, its network across the continent will total 12 destinations, including those of Egypt and Morocco. It will be the only European carrier to serve Windhoek, Victoria Falls and Kruger Mpumalanga. Eurowings Discover Commercial Director Helmut Woelfel said:
Africa is clearly one of the largest and strongest markets for us. Our booking figures prove that travelers from all over Europe are increasingly drawn to the vastness and beauty of this continent. As a leisure airline, we are therefore betting on a versatile Africa program this year and will continue to develop it in the future.
51 African destinations: Turkish Airlines adds B737 MAX Juba flights
Turkish Airlines has announced Istanbul to Juba (the capital of South Sudan), which will begin this summer – its 51st passenger destination in Africa.
Read more
About the Author