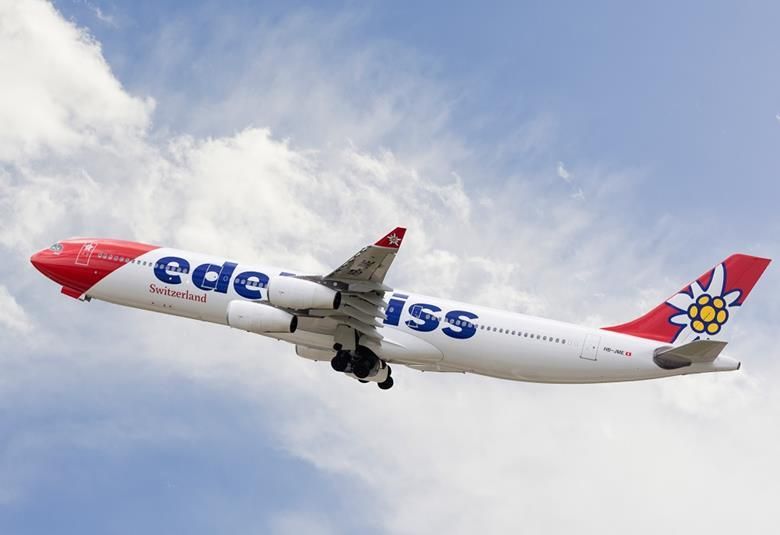 Edelweiss Air plans a fifth Airbus A340 for next summer
Edelweiss Air, a subsidiary of the Lufthansa Group, plans to introduce a fifth Airbus A340 to its long-haul fleet in July 2023. The aircraft is now the asset of Swiss International Air Lines and will be purchased from the Swiss leisure airline.
Edelweiss CEO Bernd Bauer said:
"The additional Airbus A340 will allow us to meet the growing demand for flights to our long-haul holiday destinations."
This Airbus A340 was built in July 2003, its manufacturer serial number was 546 and its current registration number in the SWISS fleet is HB-JMC. Edelweiss added that,
"Planning work is currently underway for upcoming aircraft cabin modifications."
Edelweiss' booming summer business
Edelweiss carried a record number of passengers last month, reaching 304,039, which is 3% above its pre-pandemic level in July 2019. It also achieved an impressive load factor of 84%. The resurgence in demand for leisure travel has certainly benefited the carrier, with its most popular destinations being North American and Spanish vacation spots.
Edelweiss carried a record number of passengers in July of 304,039 in July last month due to booming travel demand. Photo: Aero Icarus via Wikimedia
Edelweiss offered 74 destinations this summer, 30% more than last year. For long-haul routes, the United States, Canada and the Dominican Republic rank among the best choices for travelers, while Spain, Greece and Italy stand out for short and medium routes.
Edelweiss CEO Bernd Bauer is delighted with the successful start of the current summer season. He said,
"Our customers are eager to travel again and trust us again after a period of uncertain popularity. We are very satisfied with the above-average positive feedback from customers. The fact that Edelweiss is a reliable partner for holidaymakers this summer certainly helped."
Focus on Edelweiss
Edelweiss Air was founded in 1995 in Bassersdorf, Switzerland with just one aircraft – a McDonnell Douglas MD-83. The company was named after the unofficial Swiss national flower, which is also painted on its aircraft. Shortly after, the airline replaced its sole MD-83 with a new Airbus A320. In 1999, the airline began long-haul operations using the Airbus A330-200.
Edelweiss was 100% owned by Kuoni Travel until November 2008. Since then, Swiss International Air Lines has purchased the operating rights. Swiss International Air Lines was acquired by the German group Lufthansa in 2005, making Edelweiss the subsidiary of Europe's largest airline group.
Stay informed: Sign up for our daily and weekly summaries of aviation news.
Edelweiss further expanded its long-haul fleet with the larger Airbus A330-330 in March 2011. In July 2015, Edelweiss announced that it would introduce four Airbus A340-300s, which were previously operated by its parent company Swiss International, to its fleet between 2017 and 2018. Edelweiss introduced a new livery on one of its Airbus A320-200s, which later became the airline's standard livery. In December 2016, Edelweiss delivered its last Airbus A330-200 to Brussels Airlines and replaced it with Airbus A340-300s inherited from SWISS.
The airline's distinctive livery is derived from the Edelweiss flower. Photo: Edelweiss
Finally, in 2021, Edelweiss transferred its two Airbus A330-300s to Eurowings Discover, another Lufthansa Group leisure airline, leaving only Airbus A340-300s in its long-haul fleet. Edelweiss introduced two additional Airbus A320s to its short-haul fleet this summer, bringing its A320 fleet to a total of 12 aircraft.
Now the Edelweiss base is located at Zürich Airport (ZRH) and has a global fleet of 16 jets, consisting of 12 A320s and four A340s.