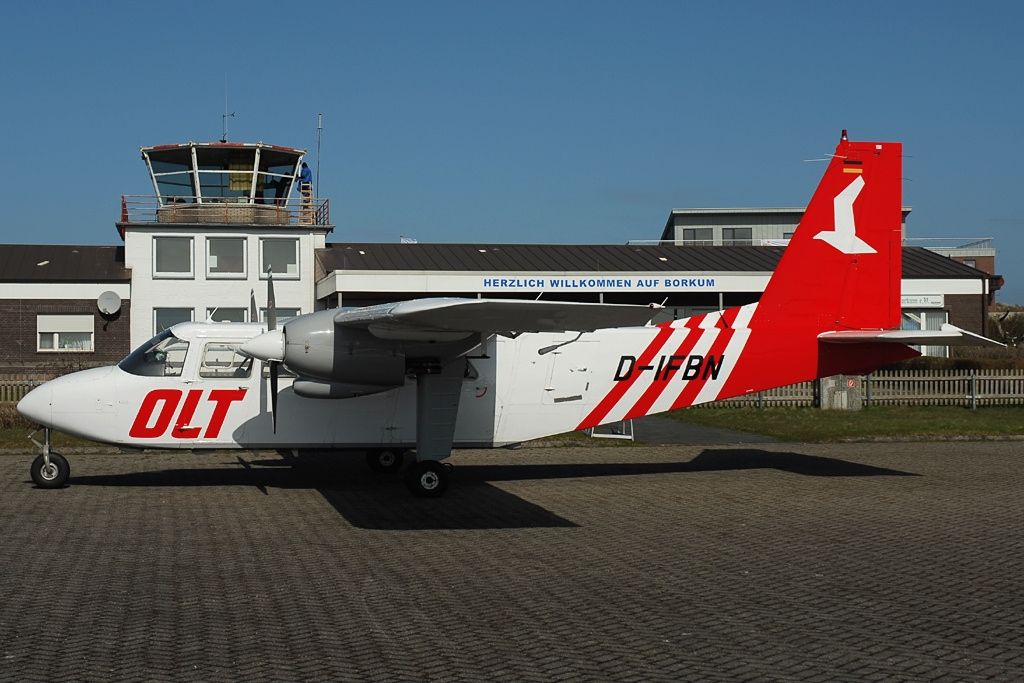 Connecting the German North Sea Coast
Domestic air transport is an interesting topic in Germany. The country is one of the largest in Europe, yet its high-speed rail network means airlines face stiff competition on internal routes. However, when it comes to connecting more destinations on the German North Sea coast, a small regional airline named Ostfriesischer-Flug-Dienst comes to the fore.
A transporter from the 1950s
Ostfriesischer-Flug-Dienst came into existence in its current form in 2011. However, the company's predecessors date back much further, namely to the late 1950s. November 1958 saw the formation of Ostfriesische Lufttaxi, an Emden-based air taxi company that flew to the North Sea islands using a Danish-built Skandinavisk Aero Industri KZ VII. Laerke utility aircraft.
Within a decade, the airline had grown into a five-plane operation. 1972 marked a name change to Ostfriesische Lufttransport (OLT), with the 'taxi' aspect of its former name dropped, meaning it now provided more than just air taxi services. Indeed, in the early to mid-1970s, the airline added a portfolio of domestic German routes away from its heart of the North Sea, reaching Munich.
The fall of the Berlin Wall and the reunification of the former East and West Germany opened new domestic markets in the 1990s. Entering the 21st century, the OLT began to face competition from low-cost carriers. However, in a notable win, he managed to steer easyJet away from its business-busy Bristol-Hamburg route. Nevertheless, hard times were just around the corner.
Stay informed: Sign up for our daily and weekly summaries of aviation news.
Formed by restructuring
Ostfriesische Lufttransport's operations were somewhat dependent on its shuttle contract with European aircraft manufacturer Airbus. As such, when it lost this in August 2011, it had to undergo significant restructuring, which included the loss of 100 of its 120 employees. As such, it was split into two separate airlines.
OLT Express Germany was one such carrier, but it lasted less than two years under the ownership of Polish investors before going bankrupt. The other was Ostfriesischer-Flug-Dienst, known for short as OFD. This regional operation focused solely on the North Sea routes of the former LTO and remains active today.
The airline today
OFD has been active for over a decade and will celebrate 11 years in business in September. Today, the airline's main operating base is located at Emden Airport, and its headquarters are also in the city served by this facility. From there it operates both scheduled and charter flights, as well as circular sightseeing tours.
In terms of destinations served by OFD, its only route from Emden connects the city to the island of Borkum. During this time it also flies from Cuxhaven and Heide to Flughafen Heligoland-Düne, a small island airport that serves the Heligoland archipelago. But which planes make these flights?
According to the OFD website, the carrier has a total of six aircraft. Five of them are examples of the Britten Norman Islander, a British regional airliner that has been active for over half a century. These eight passengers are OFD's largest aircraft. Its sixth and final aircraft is an Australian-built GippsAero GA8 Airvan, which seats up to five passengers.
Did you know Ostfriesischer-Flug-Dienst? Maybe you even flew with this German regional carrier? Let us know your thoughts and experiences in the comments!
What to expect from the Boeing 777X Freighter
Read more
About the Author