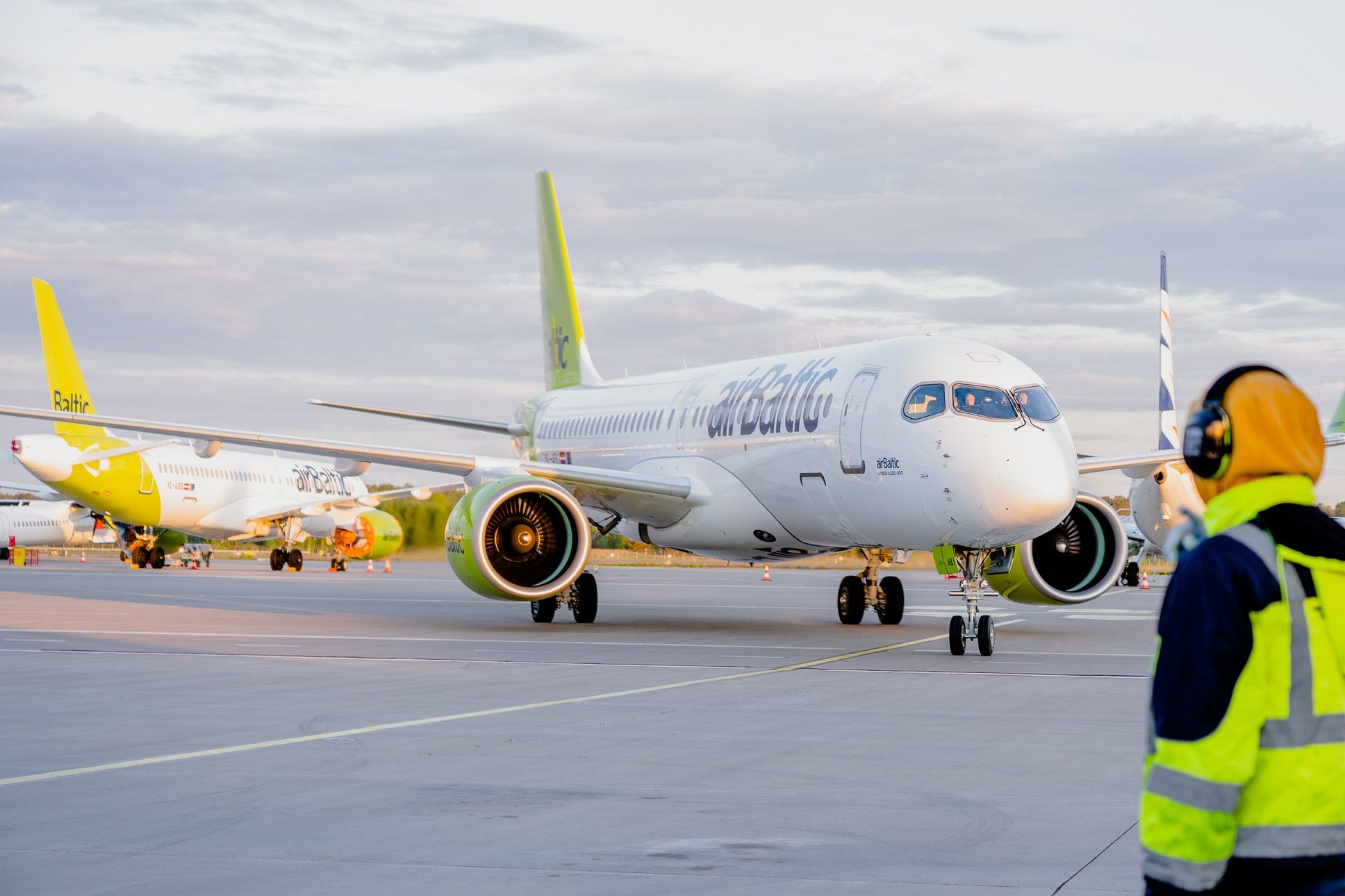 airBaltic welcomes the 36th Airbus A220-300 to its fleet
AirBaltic, based in Riga, has just taken delivery of its 36th Airbus A220-300, registered YL-ABJ. This is the fourth of eight scheduled deliveries of the type in 2022, just one week after Number 35 was delivered. 14 A220s are still expected over the next few years as part of the carrier's 50-person order with Airbus. , with an option and buy rights for another 30 if necessary.
Latest additions
YL-ABI and YL-ABJ joined the A220-only fleet on 21 and 28 May respectively. While the latter awaits implementation in the airBaltic network, the former YL-ABI has been spotted dotting Europe, covering routes between its central hub in Riga and Tallinn, Frankfurt and Vienna.
Four more Airbus A220-300 deliveries are expected to join the airBaltic fleet this year. Photo: airBaltic
Since welcoming the ultra-efficient narrowbody to its fleet in 2016, airBaltic has flown nearly 8 million passengers on the type, having performed more than 92,000 flights over 200,000 block hours.
The A220 has proven an unlikely choice with airlines around the world. Boasting a range of 3,600NM with a passenger capacity of up to 160, the jet found itself plied on several low-density medium-haul routes, typically operated by its slightly larger A320 siblings , including airBaltic's Riga-Dubai service (six hours and 45 minutes), Air Austral's Chennai to Reunion (six hours and 10 minutes) and JetBlue's New York to San José (six hours and 40 minutes) including the launch is scheduled for September.
During its six years of operating the aircraft, airBaltic has consistently sung the A220's praises, celebrating its reliability and efficiency. The carrier notes that the jet has far exceeded its expectations, delivering better overall performance, better fuel efficiency and improved convenience for its passengers and staff, thanks to its improved flight experience, from wider seats to larger windows and to improved toilets.
Growing popularity
The a220 is currently the greenest commercial aircraft in the world, thanks to its low operating noise – approximately four times smaller than its counterparts, and its efficient engines which reduce carbon dioxide and nitrous oxide emissions. 20% and 50%.
Recently, the carrier toured the Asia-Pacific region with Airbus, demonstrating the jet's capabilities in Australia, Singapore, Vietnam and Japan.
The carrier has seen such unprecedented demand for the jet that it has already transferred 15% of its wet lease fleet to other European airlines. Photo: airBaltic
Demand across Europe has seen airBaltic wet-lease several of its planes, including four serving with Lufthansa subsidiary Eurowings and a fifth with SAS. Representing around 15% of its fleet, the carrier believes there could be even more leases on the cards.
"There is a huge demand for the A220 aircraft, especially the -300 version. So I guess if we tried we could lease our entire fleet this year," noted CEO Martin Gauss in a recent interview with Simple Flying. "The demand does not only come from Europe. We have a worldwide demand for the aircraft, and [we are] now working on some of the winter tracks in different continents.
Having established its niche in low-capacity medium-haul routes, Gauss added that the rise in popularity reflected the current market. With travel demand returning but some hesitation, the A220 has become an ideal all-rounder within the airBaltic fleet.
Have you flown on one of the airBaltics Airbus A220s? What was your experience? Let us know in the comments.
Former Transaero Boeing 747 leaves storage in the desert after 7 years
Read more