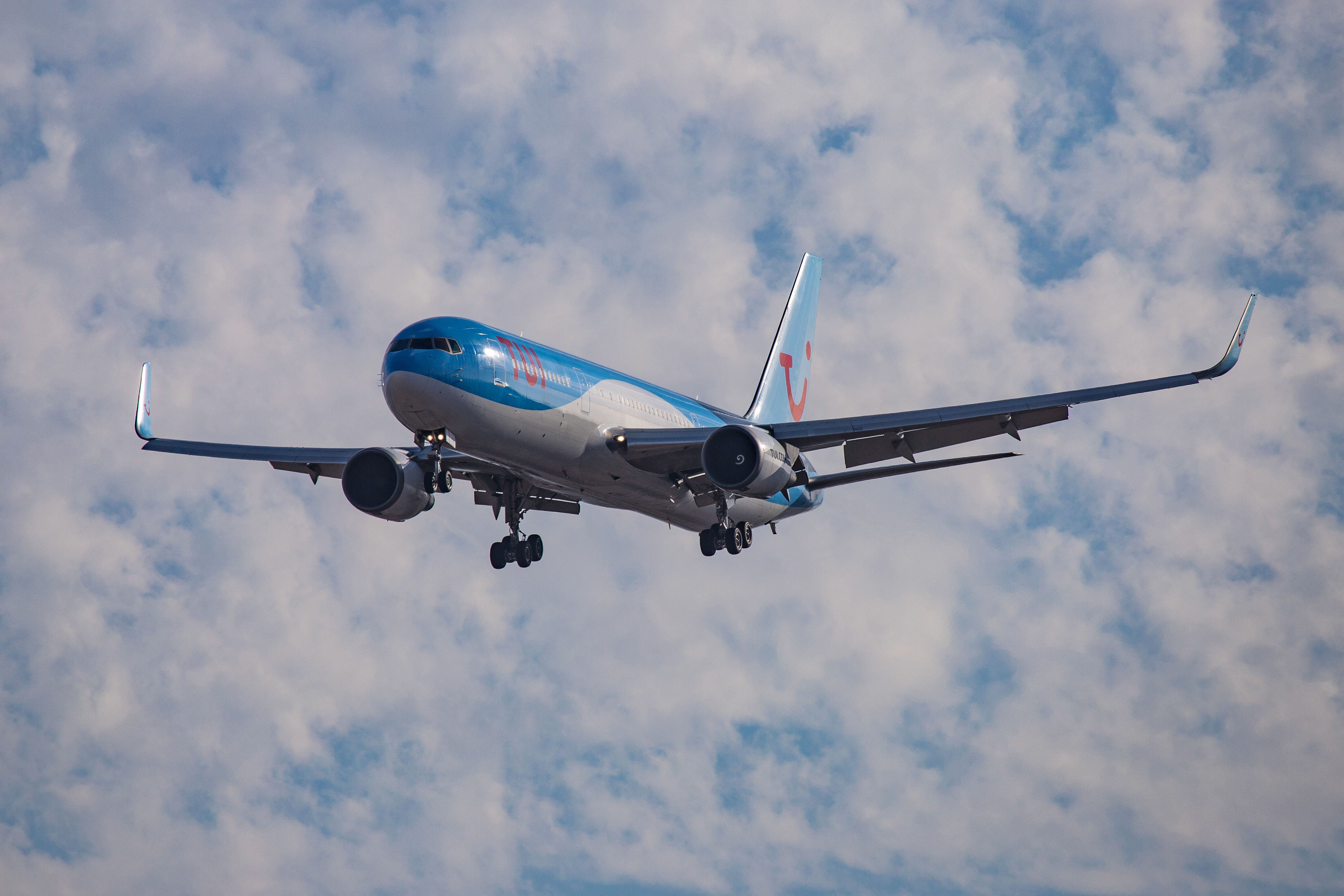 A look at British carrier TUI Airways' remaining Boeing 767s
According to data from ch-aviation.com, Luton-based leisure airline TUI Airways has 70 Boeing aircraft in its fleet. Most of them are narrow-body 737 family aircraft, but wide-body aircraft also play a limited role within the airline. The 787 "Dreamliner" is the dominant force in this respect, but, with two aircraft still in service, the former Boeing 767-300ER is also still performing well at TUI Airways.
G-OBYF
TUI Airways' two remaining 767s have an average age of 24.1 years, more than double the figure (10.2 years) for the airline's entire fleet. They are by far its oldest aircraft and, historically speaking, 18 other such examples have served the British leisure carrier. The oldest of the remaining pair is G-OBYF.
This aircraft is 24.44 years old, having been delivered to Britannia Airways in June 1998 under the same registration. However, it transferred almost immediately to Britannia Airways Germany as D-AGYF. Over the years it has flown for new iterations of the company in the UK, Germany and Sweden.
It has been flying under the TUI brand since November 2016 and began its most recent stint in the UK division in April 2021. Unlike most seven-abreast Boeing 767s, this plane's 328 economy class seats are arranged in a eight abreast configuration. By July, G-OBYF had accumulated 90,193 flight hours over 19,454 cycles.
Photo: Getty Images
G-OBYK
The other remaining TUI Airways Boeing 767-300ER bears the registration G-OBYK, and it is slightly younger (though still well above the overall airline average), at 23.67 years old. . It was delivered to First Choice Airways in March 1999, before being transferred to Russian carrier Aeroflot in May 2005. Simple Flying traced the history of Aeroflot's Boeing 767 fleet in an article last year.
After more than six years with the Russian national airline, the aircraft returned to the leisure market by joining TUI Nordic in August 2011. It has since made two stints there, as well as two with the UK division of TUI Airways. The most recent of these started right after that of its counterpart, G-OBYF, in May 2021.
G-OBYK is also distinguished by the configuration of its seats. While it retains the dense eight-abreast Economy Class configuration, it has only 260 of those seats. Meanwhile, the rest of the jet consists of 31 seats (seven abreast) with more legroom. Although younger, he had accumulated more hours (98,341) than G-OBYF as of July 2022.
Photo: Getty Images
Where are they flying?
With the Boeing 767 becoming an increasingly rare aircraft type, it may be of interest to European avgeeks to know where TUI Airways deploys these aircraft. According to data from RadarBox.com, both are based in Manchester (MAN), with their most common destination being Tenerife South (TFS). G-OBYF has made 63 moves there over the past year, and G-OBYK has recorded 59.
The Greek island of Rhodes also ranks very well – it is second in terms of use of G-OBYK (44 flights) and third for G-OBYF). Rounding out the podium for each aircraft we have Boa Vista in Cape Verde (second place for G-OBYF with 59 movements last year) and Lanzarote (third place for G-OBYK with 34 movements last year).
What do you think of TUI Airways' remaining Boeing 767-300ERs? Have you ever flown one of these high density jumbo jets? Let us know your thoughts and experiences in the comments!
Sources: ch-aviation.com, RadarBox.com